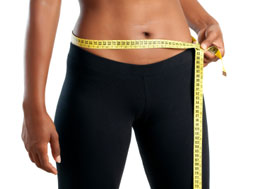 What if slipping on a pair of workout pants could help you more quickly shape and tone your lower body while allowing you to work less intensely to do it? Fila USATM claims that its Toning Resistance Tight Capri helps women "achieve amazing in half the time." The pants are made of a polyester-and-Lycra blend, which Fila says are "designed to increase muscle exercise, which improves the efficiency as well as recovery of an existing workout." To test the validity of these claims, ACE enlisted a team of exercise scientists from the University of Wisconsin-La Crosse to measure the calories burned and perceived effort of women exercising while wearing the capris. The data was compared to measurements of the same women performing the same workout while not wearing the pants. Muscle activity of the thighs and hips was also measured for both workouts.
During testing, 16 healthy female volunteers between the ages of 18 and 24 years walked on a level treadmill at 2.5 mph, 3.0 mph and 3.5 mph for five minutes at each speed. This sequence was repeated twice; once while wearing the toning pants and once while wearing regular athletic shorts.
The results of the study showed that when the women wore the toning capris they experienced a small boost in caloric expenditure (0.09 more kcal/min) compared to the conventional athletic shorts. When asked to report their perceptions of exertion while wearing the toning capris, overall the women claimed that it was harder to exercise in the capris compared to the athletic shorts. Further, several stated that they felt increased compression and resistance around the hip joint, which made it more difficult to walk. Lastly, researchers found no significant differences between muscle activity of the thighs and hips for both workouts.
Ultimately, the study revealed that any results provided by the toning capris are negligible, making the purchase of these pants (at $50 a pair) somewhat of a pricey option that certainly does not deliver a "50% increase in muscle workouts," as claimed in the product advertisement. That said, I have clients and group fitness participants alike who swear by wearing fabrics that compress their hips and thighs because they enjoy the visual effect of diminished size. As long as these types of fabrics do not inhibit range of motion and movement-pattern functioning (including the ability to breathe normally), I typically do not try to convince my clients to avoid wearing them.
The psychological boost provided by wearing pants that make a client feel better about the way she looks can add to the motivation required to adhere to an exercise program, especially in an environment such as a fitness facility where members often compare themselves to others in terms of appearance. Therefore, when asked by my clients about the effectiveness of wearing fabrics that promise to "shape and tone" their bodies, I respond by letting them know that any extra "edge" they might experience has more to do with their perceptions of how the fabric makes them feel. After all, both scientifically and anecdotally, it has been established that a person's feelings about the experience of exercise can determine if he or she will continue to be motivated to put in the work required to achieve fitness- and health-related goals. For example, a positive perception of a workout in which a client successfully met the challenges given and felt like she was part of a cohesive group (e.g., similar to other exercisers in terms of characteristics such as appearance) will go a long way toward motivating that client to return again for her next exercise session.
As with most other exercise-related products that overpromise and under deliver, based on the ACE study, the Fila Toning Resistance Tight Capri does not live up to its claims of achieving amazing results in half the time. In the end, it is a tight-fitting pant that might offer a visual slimming effect during use, but does not offer a substantial increase in calories burned or muscle activation, making them perhaps a bit more uplifting than toning.