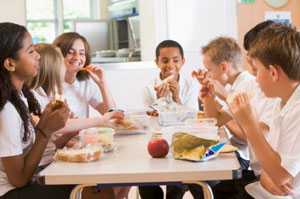 In response to implementation of the healthier school lunch required by the Healthy, Hunger-Free Kids Act of 2010, the American Council on Exercise issued the following statement:
The new school lunch provides students with healthy and balanced meals that are rich in fruits, vegetables, and whole grains and have less sodium, saturated fat, and empty calories than the old school lunch. Not surprisingly, students accustomed to lunches filled with high-salt, fried foods have not readily adjusted to the change. Some students, teachers, and politicians have expressed concern that children are not eating the lunches and consequently may not be meeting their nutritional needs or may finish lunch hungry.
The new school lunch provides 850 calories for high school students, 700 calories for middle school students, and 650 calories for elementary school students. It provides a nutritionally-dense and balanced meal, reflecting recommendations of the Dietary Guidelines. A child who eats the school lunch should receive more than adequate calories and nutrients to meet needs for optimal growth and development. Many school districts provide unlimited access to fruits and vegetables for children who are still hungry, or for young athletes and other active children who require more calories than the average student.
It should come as no surprise that the students are not readily embracing the healthier school lunch. If given a choice between french fries or broccoli, 99 percent of children will choose the french fries. However, given the current epidemic of childhood obesity and physical inactivity, schools and communities cannot afford to cater to a child's preference for sweet and salty foods. School is a place where parents send their children to gain an education and learn how to be healthy and care for themselves. The school lunch should serve as an example of the highest health standards in practice.
Parents, professionals, and community members concerned about the new school lunch should consider the following three points:
Developing a taste for healthy food is learned. A large body of research supports that it takes children 15-20 times to accept a previously-rejected food. With increasing exposure to the healthy lunches, the students will eventually come around to liking them. Not only will this help them to not be hungry, but if these new health preferences are reinforced at home and outside of school, the children will learn how to make healthier choices for themselves on a regular basis.
A hungry child will eat. If the students do not have access to competing foods (like chips and sodas from vending machines or ice cream from ice cream trucks loitering outside the school), a hungry child will eat the healthier school lunch. With increased exposure to the lunch, the child will come around to liking it and eat more, assuring that caloric and nutritional needs are met.
Taste is the number one predictor of whether a child will eat a food. School officials need to work with students to develop a menu that not only meets nutritional requirements but that also tastes good. If the school lunch passes the taste-test of a child or adult who likes healthy food, then we just need to be patient. The kids will come around.