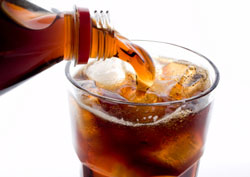 A few months ago, we told you about New York City Mayor Michael Bloomberg's latest efforts to combat obesity—a proposed ban on large servings of soda and other sugary drinks. We also looked at the reactions and arguments from both supporters and critics of the idea. Earlier this month, the New York City Board of Health voted in support of the ban, prohibiting restaurants, delis and movie theatres from serving sodas or sugary drinks larger than 16 ounces.
While many don't want the government involved, New York City Health Commissioner Thomas Farley points out that the government is already heavily involved in the food industry and that if they do nothing, the situation will simply get worse. Referring to the prevalence of obesity in the as a "crisis," Farley states that this ban is "just making healthy choices easier." After all, he argues, simply educating consumers about how their diet impacts their obesity risks has not worked in the past. The city also plans to study and track the effectiveness of the ban once it goes into effect in March 2013.
The American Beverage Association was not surprised by Farley's commentary, suggesting that he is "trying to justify an arbitrary ban on sweetened beverages larger than 16 ounces," and that "government overreach as audacious as last week's rubber stamp by the Board of Health requires throwing every imaginable argument at the wall to see what sticks."
Many opponents of the ban feel it is an infringement on personal freedoms and hope to overturn it before it takes effect in March. "It's sad that the board wants to limit our choices. We are smart enough to make our own decisions about what to eat and drink," Liz Berman, a business owner and chairwoman of New York for Beverage Choices, said in a statement.
While there are many opinions on the soda ban's effectiveness and legality, there is also plenty of research linking sugar consumption to health problems such as heart disease, type 2 diabetes, certain cancers and obesity. That said, the next time you're craving something sweet, keep in mind ACE's recommendation of incorporating a sensible diet and regular physical exercise into your routine so that you may live your most fit life.
---
References:
CBS News, healthpop. "NYC Health Commissioner on soda ban: 'We are just making healthy choices easier'." Web. Published September 19, 2012. http://www.cbsnews.com/8301-504763_162-57515748-10391704/nyc-health-commissioner-on-soda-ban-we-are-just-making-healthy-choices-easier/
TODAY, health. "NYC passes ban on supersized sugary drinks." Web. Retrieved September 19, 2012. http://todayhealth.today.com/_news/2012/09/12/13834093-nyc-passes-ban-on-supersized-sugary-drinks?lite