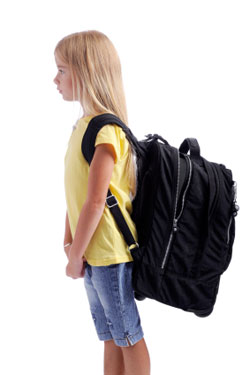 Kids are back in school and in full learning mode, which typically means increasing workloads and homework, and long hours studying for looming exams. Too often, rising academic pressures also mean heavier backpacks—and potential back pain—as children transport textbooks, binders and papers back and forth between school and home.
While many factors contribute to back pain—poor posture, prolonged inactivity, stress from sports and other activities—a heavy backpack contributes to worsened posture, muscle soreness, shoulder pain, and numbness and tingling. In one study of 10- to 18-year-olds, nearly all of the students carried a backpack; 70 percent said they carry it in a stooped or forward-leaning posture, while just one-quarter of the students said they stood up straight; and half of students believed their backpack was too heavy. Not surprisingly, students with the heavier backpacks were more likely to suffer from poor posture and symptoms of pain, soreness or tingling (Tablott et al, 2009). In another study of 5th to 12th grade students, a heavy backpack was most strongly associated with upper- and mid-back pain, as well as lost school time, lost sports time and increased chiropractic utilization (Moore et al, 2007).
Beyond the immediate discomforts of carrying a too-heavy backpack to and from school, symptoms of back pain in adolescence are associated with increased back pain as an adult (Brattberg, 2004). Given the high prevalence and morbidity of back pain in adulthood, surely parents and kids have an additional incentive to protect these young backs from problems and worsened pain in the future. The American Occupational Therapy Association, the American Physical Therapy Association, the Academy of Orthopedic Surgeons and the American Chiropractic Association each provide recommendations to protect children from back pain due to backpack use.
Here is a summary of the recommendations:
Children should never carry more than 10 to 15 percent of their weight in a backpack. Girls complain more than boys of back pain, which may be due, in large part, to their lighter body weights and typically heavier backpacks. Schools and teachers can help lessen the load by providing textbook storage, e-books whenever possible and a second set of books for home use, or offering photocopies in lieu of heavy texts.
Load the backpack strategically. Place the heaviest items closest to the child's back—at the back of the pack—and distribute weight evenly by using both straps. Consider choosing a backpack with the waist belt and assure the child uses it. This helps to distribute the weight of the pack's contents evenly.
Choose a backpack that fits. Adjust the straps—which should be well-padded and comfortable to avoid pain and tingling in the arms, neck and hands—so that the pack fits snugly. The pack should rest from about two inches below the shoulder blades to waist level with the bottom of the pack resting comfortably in the curve of the lower back. The pack should never rest more than four inches from the child's waistline.
In addition to the weight in a backpack, back pain is associated with the amount of time spent carrying a backpack. Strategies to both decrease the weight and redistribute the load include using roller bags, minimizing backpack use in kids who have long walks between home and school, or having the child carry a book or two outside of the pack.
The American Occupational Therapy Association (AOTA) sponsors a National School Backpack Awareness Day every September (which happens to be today, September 19th). On this day, the AOTA works to provide children, parents and educators with tips for safe backpack use.
---
References
Brattberg, G. (2004). Do pain problems in young school children persist into early adulthood? A 13-year follow up. European Journal of Pain, 8, 187-199.
Moore, M.J., White, G.L. and Moore, D.L. (2007). Association of relative backpack weight with reported pain, pain sites, medical utilization, and lost school time in children and adolescents. Journal of School Health, 77, 5, 232-239.
Tablott, N.R. et al. (2009). School backpacks: it's more than just a weight problem. Work, 34, 481-494.