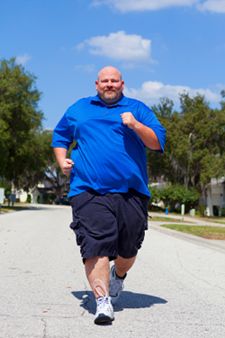 Is it possible to be both fit and fat? Reports from a recent study published in the European Heart Journal say the answer is yes. To gain knowledge on the role physical activity plays in the overall health of obese individuals, researchers assessed 43,265 adults between 1979 and 2003. Researchers used traditional body mass index (BMI) calculations to determine BMI, while body-fat percentage was measured by hydrostatic weighing or skinfold testing. Of those considered obese (with a BMI >30) according to BMI measurements, 5,649 (30.8%) were classified as metabolically healthy, while 12,829 (46.3%) of those considered obese based on body-fat percentage were deemed metabolically healthy.
Participants' fitness levels were assessed by a maximal exercise test on a treadmill, with researchers finding that metabolically healthy but obese participants had better fitness than metabolically abnormal obese participants, and also had a lower risk of all-cause mortality, non-fatal and fatal cardiovascular disease, and cancer mortality. Furthermore, they observed no significant differences between metabolically healthy obese participants and metabolically healthy normal-fat participants.
According to Lead author Dr. Francisco Ortega, "Our study suggests that metabolically healthy but obese people have a better fitness level than the rest of obese individuals. Based on the data that our group and others have collected over years, we believe that getting more exercise broadly and positively influences major body systems and organs and consequently contributes to make someone metabolically healthier, including obese people. In our study, we measure fitness, which is largely influenced by exercise."
"The complete picture of 'fitness' is much more than a number on the scale or a subjective image of what 'fit' looks like," explains ACE Exercise Physiologist Jessica Matthews. "At the end of the day, being physically active has a much greater purpose than solely improving physical appearance. Leading a physically active lifestyle increases one's level of fitness, which in turn also improves overall health (by decreasing the risk of cardiovascular disease and certain cancers, as found in this study, for example). Furthermore, being active enhances your ability to engage in the activities of everyday life that are so important to you, such as playing with your children or grandchildren, hiking and swimming while on vacation, or simply having the freedom to move throughout the day with ease."
It's important to keep in mind that, in terms of optimizing health and enhancing overall well-being, structured physical activity should be combined with a sensible diet (keeping the notion of moderation in mind) and the adoption of other healthy lifestyle habits (adequate sleep, increased movement throughout the day, etc.) that will enable you to lead your most fit life.
---
References:
The Telegraph. Health. "Fat but fit people as healthy as normal weight ones: research." Web. Retrieved September 4th, 2012. http://www.telegraph.co.uk/health/healthnews/9520154/Fat-but-fit-people-as-healthy-as-normal-weight-ones-research.html
European Heart Journal. "The intriguing metabolically healthy but obese phenotype: cardiovascular prognosis and role of fitness." Web. Published September 4, 2012. http://eurheartj.oxfordjournals.org/content/early/2012/08/27/eurheartj.ehs174