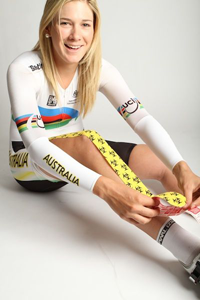 Even though the 2012 Olympic Games in London have come to an end, many of us are still reflecting on all the memorable events that occurred during the two-week competition. Gabby Douglas became America's new sweetheart, Michael Phelps was crowned the most decorated Olympian ever, and athletes from all over the world attributed much of their success to … tape. From volleyball players and divers to track & field stars and cyclists, athletes from nearly all sports were sporting tape in strange places and patterns all over their bodies. Oftentimes, the patterns were so elaborate it was hard to tell if it was actually tape. What was that about anyway?
Rocktape, a type of kinesiology tape (kinesiotape for short) has become a popular fitness product among athletes with muscle pain or those seeking to improve their athletic performance.
What is it?
Rocktape is a thin, stretchy hi-tech athletic tape used to treat sports injuries such as shin splints, IT band, plantar fasciitis, Achilles tendon, runner¹s knee and a host of other ailments. The founder and President of Rocktape, Greg Van den Dries, came up with the idea for the product after suffering from a competitive cycling injury 3 years prior. At the time of his injury, he was treated with a similar type of kinesiotape. When it wouldn't stick, his frustration inspired him to create a better product. It soared in popularity, and today, Van den Dries' enterprise has successfully penetrated the market 13 different countries. Rocktape is "stretchier, stickier, cheaper and cooler" than other kinesiotapes, he said, and its the only one of its kind that promotes improved athletic performance.
How does it work?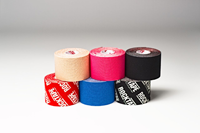 "RockTape is good as a brace, supporting joints and muscles that have been compromised, and great for edema, or swelling, lifting skin away from soft tissue and accelerating blood flow into injured areas. When applying RockTape, swelling can be reduced by as much as 50% overnight," Van den Dries said. Bringing blood flow to the surface and creating muscle stability has been known to enhance performance and delay fatigue in athletes, which explains the following by Olympic athletes. Gold medalist Justin Gatlin, who won the men's 100-meter sprint, and Nick McCrory, a bronze medalist in men's 10-meter diving, were just two of the athletes that used Rocktape. Whether the product actually played a role in their performance is still unknown and will require more in-depth research, but as Van den Dries points out, "as an athlete, you don't care whether or not it's a placebo as long as you're getting across the finish line faster when you wear the tape."
What does ACE have to say?
Given the enormous exposure due to the recent Olympics and growing popularity of kinesiotaping among many physically active individuals from recreational to elite levels, additional placebo-controlled studies are warranted. At best, kinesiotaping may prove to be a truly effective tool for managing the pain associated with a variety of sports injuries and, consequently, improving athletic performance. At worse, it might simply be a placebo and another example of the power of the mind.