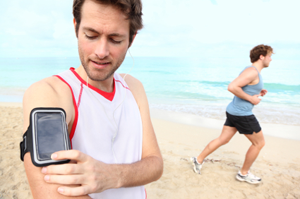 It's no surprise that technology continues to advance at a rapid pace. Usually every advance means humans have to move less and less, however as we discussed in Part 1 of this series, there is technology out there that can actually help you get more active. In Part 1 we discussed Body Monitoring Devices to help you get the most out of your fitness routine, and here we will review several smartphone apps that can help you to get motivated and get moving!
Options for Fitness Apps
My Calm Beat (FREE)
Designed as a companion app to the My Calm Beat monitor (discussed in Part 1 of this series), this app can just as easily be used without it. The central idea is that by controlling your breathing rate you can enhance calmness, concentration and focus. Have you ever noticed how you breathe fast and shallow when stressed? Well the opposite is true as well – you breathe slowly and more deeply when you're calm and focused.
If you're using the app independently of the device, just select a breathing rate per minute (6 breaths per minute, for example), set the timer for a minute or two, and follow the animated lungs with your own breathing as they inflate and deflate. If you have the My Calm Beat monitor, you'd use it to test your optimal breathing rate and use that rate. For most of you, just breathing deeply and calmly (at any rate) for a couple minutes will provide a nice boost to your brain and body.
Seconds Timer (FREE; $4.99 for Pro Version)
If you use your smartphone to help with work and rest intervals in your workouts, this app can be a helpful tool. The free version has a few pre-set timers and allows you to create your own. However, you can only save intervals you create with the paid version, which comes with many enhanced features including the ability to create, save, name and share your own intervals.
Nike Training Club (FREE)
Known as a robust workout partner app, this one allows you to choose from a number of pre-set workouts of all types and fitness levels. You can set your own music from your music library to play along with the workout. A voiceover announces time remaining and provides the name of the upcoming exercise. There are short videos of each exercise that can be played on the go for a quick technique check. The voiceover is mostly unobtrusive and only chimes in when necessary. With the high number of embedded videos, this app can take up a fair bit of space on your phone, but it may be worth it.
Abs Revealed ($2.99)
This app contains content from the best-selling book on ab training, Abs Revealed. You can use the pre-set ab workouts, build workouts on the go and explore technique on individual exercises – many of which I created exclusively for the book and the app. The exercises mostly use bodyweight, stability balls and a suspension trainer. You don't need a copy of the book to discover some terrific ab exercises and programs, but it helps solidify the usefulness of the material. If you're looking for effective, creative and challenging ab routines that don't take a lot of time, this app is for you. Videos of 30 of the most challenging exercises are included and the app contains all of more than 60 exercises from the book, demonstrated with photos and descriptions of technique. In addition, here are some of my top tips and two never before seen ab exercises.
iMuscle ($1.99)
If you've got a little touch of exercise science geek in you, then this app is sure to pique your interest. It has well-rendered visuals of anatomy and muscles. You can click on a muscle to learn a little about it and get some sample exercises for each target muscle. Most of the exercises are standard ones that are commonly known so you won't get much here in the way of exercises that are new or cutting-edge, but that's not the point of this app. The ability to see exercises done by an animated figure without skin allows for a detailed view of the muscles in action. The exercises are all stand-alone so it would be up to you to put them together into a routine, but it can be helpful for finding an exercise for a certain part of the body and getting a better understanding of what muscles contribute to the movement.
Interested in other high-tech options to enhance your workouts? Check out ACE's Product Reviews for the latest in fitness apps, on-body monitoring devices, heart rate monitors and more!