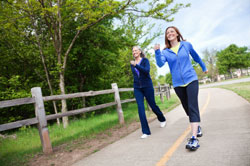 Walking is a great, low impact form of exercise that people of all ages can participate in, and according the Centers for Disease Control and Prevention's recently released survey, more people in the United States are walking on a regular basis. The 2010 survey showed that 62% of adults say they walked for at least 10 minutes in the previous week, compared to 56% in 2005. This means that 145 million adults include walking as part of their weekly routine, whether it's for exercise, relaxation, transportation, or errands, an increase of 15 million from 2005.
While the survey shows that activity levels are up, many people are still not meeting the federal government's physical activity guidelines of 150 minutes a week of moderate intensity aerobic physical activity. While physical inactivity can lead to a number of health complications, including heart disease, stroke, type 2 diabetes, depression, and some cancers, a study conducted by the Institute of Aerobics Research found that exercise can actually reduce the death rate from all causes. The eight-year study evaluated the fitness and mortality levels of over 13,000 adults, and researchers found that those who walked the equivalent of 30 minutes a day had a significantly lower risk of premature death than those who rarely exercised.
A regular walking program can increase your overall health by:
Reducing blood cholesterol
Lowering blood pressure
Increasing cardiovascular endurance
Boosting bone strength
Burning calories and keeping weight down
For beginners interested in a walking program, we recommend starting with a less strenuous workout, limiting your distance and pace and always making sure you can talk while walking. It is important to always practice safe exercise habits, including selecting the right running shoes and program, to ensure optimal benefits and injury prevention. To learn more about walking and how to incorporate it into your daily routine, visit our "A Walk A Day" Fit Facts article.