It's no secret—I love yoga. As both a student and teacher of yoga, I'm continuously seeking ways to grow in my practice by exploring various styles and practicing in different locations. But even after years of studying and instructing, would I be centered and balanced enough to practice yoga on water? As someone who started swimming from about the time I could walk, the concept of combining my love of yoga with my love of water and the outdoors truly appealed to me, so I set out to explore taking my yoga practice afloat.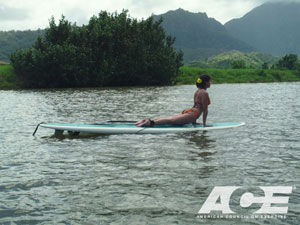 What's the buzz all about?
Stand up paddleboard yoga (SUP yoga) combines the sport of stand-up paddleboarding with yoga postures, also known as asanas. The stand-up paddleboard itself is essentially a large, very buoyant board similar in shape to that of a surfboard, which is moved through the water using a single blade paddle. The yoga postures are then practiced on the board out on the open water.
My experience
I had my first experience with stand-up paddleboarding on a trip to Hawaii back in March, where we rented boards and set out for a four mile river trek. While on the board, I attempted to try out a few yoga poses, as I had heard about full yoga classes that were being taught on paddleboards. I was curious to see what a posture like upward facing dog would feel like with the water moving beneath me, and I have to admit, the feeling of finding a deep ujjayi breath while exploring my strength, balance and flexibility amidst the beauty of the Hanalei River was truly exhilarating. It was for that reason that I felt compelled to seek out a structured SUP yoga class.
To guide me in this new venture, I sought out the expertise of the instructors at Paddle Into Fitness, who offer SUP yoga classes on Mission Bay in San Diego, CA. With mounting research about benefits from yoga, individuals are continually seeking ways to grow in their practice, and this class is the perfect option for those seeking both a new experience and a change of scenery.
The class I attended was taught by Roxy, a passionate and knowledgeable SUP instructor and registered yoga teacher who, as a Southern California native, knows a lot about water sports. Roxy did a great job providing detailed instruction throughout the class, consistently emphasizing safety and quality of movement—both very important once out on the water. We spent the first portion of the class on land in a grassy space, practicing Sun Salutations and several other yoga postures designed to properly warm the body and prepare us for our practice out on the bay. We then moved towards the shore where we reviewed some of the SUP basics, such as how to properly carry the board and place it in the water, and how to paddle with correct form and execute turns. We then headed out to put our skills to the test. As we paddled throughout the bay, we paused at various points on our journey to practice an assortment of yoga postures, each of which Roxy provided easier and more challenging posture options, catering to each individual's ability level. The small class size of six people allowed for a more intimate feel with more personalized instruction, creating an enjoyable and memorable class experience.
A great highlight from the class was coming to savasana (also known as corpse pose) on the board, lying still under the warm sun with the sound of the water moving gently beneath us as we soaked in all of the benefits of our physical practice. While we spent the final few minutes of class in this culminating posture, the bay's subtle current gracefully guided us to the shore, which was a pleasant surprise to awake to following such a blissful period of complete relaxation and serenity.
What to wear
Since this class takes yoga out onto the open water, I wasn't sure whether I should sport my yoga attire or throw on my swimsuit, but it turns out either option works (it really just depends whether or not you want to work on your tan)! Since the class began at 8 a.m. when the marine layer was still blocking the sun, I opted to wear one of my favorite lululemon tank tops with coordinating crop pants which turned out to be a great choice, as the shorter length of the pants was perfect for walking the board both in and out of the water without getting too wet.
What does it work?
When it comes to SUP, it's all about the muscles of the midsection! The strength needed to find balance on the board and generate power and movement while paddling or turning stems from the muscles of the core - from the deep transverse abdominis to the rectus abdominis and obliques. The integration of the yoga postures helps to further challenge one's balance and build both strength and flexibility throughout the entire body.
Who is best suited for SUP yoga?
All of the participants in this particular class had at least some SUP and/or yoga experience, which was helpful since the class was 90 minutes long. It did, however, move at a relatively slower pace, with the instructor taking time to explain and review the basics of SUP along with proper alignment and breathing during the basic yoga postures. While this does make it accessible for those with various experience and abilities, it is highly recommended that individuals take a beginner SUP lesson or class to gain more experience with proper paddling technique, stance and form. Some experience with yoga is also a plus.
Things to keep in mind
Proper technique is key, so before taking a SUP yoga class I recommend taking a one-on-one or small group lesson to learn the basics. This will reduce your risk of injury and enhance your experience. Also, because the class incorporates yoga postures, I recommend seeking out an instructor who is a Registered Yoga Teacher (RYT or E-RYT). They can safely and effectively guide you through various physical postures and offer modifications and/or progressions to best suit your ability level.
Final thought
My experience with SUP yoga was as exciting and fun as it was tranquil and rejuvenating. If you're seeking a change of pace and are open to trying a fun new way of enhancing your mental and physical well-being, all while enjoying some fresh air and sunshine, this is the perfect option to explore on your health and fitness journey. Namaste!