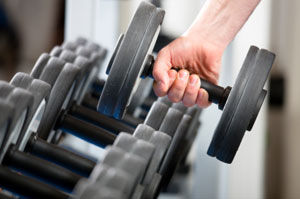 Experts continually warn of the link between our nation's obesity epidemic and the rise in Type 2 Diabetes diagnoses. According to the American Diabetes Association, 26 million Americans have diabetes, and with childhood obesity rates increasing, it is no longer just adults that are being diagnosed. The good news is, however, that there are certain lifestyle changes you can make to prevent and possibly counteract the disease. A common recommendation among doctors for reducing this chronic disease has always been aerobic exercise, but now, a recent study found that weight training can also protect against diabetes.
In this study, 32,000 men were analyzed over the course of 18 years, and in this time frame, 2278 of them developed Type 2 Diabetes. Researchers found that those who engaged in 150 minutes per week of aerobic exercise, including walking, jogging, running, bicycling, swimming, tennis, squash, calisthenics/rowing, and heavy outdoor work, lowered their risk of developing the disease by 52% while those who engaged in weight training lowered their risk by 34%. Furthermore, those who engaged in both types of exercise had an even greater risk reduction. While this study was conducted among men, researchers do believe the results pertain to women as well.
This is one of many research studies showing that regular exercise leads to decreased insulin resistance, putting it at the forefront of diabetes prevention, management and treatment. As ACE's Chris Freytag points out in Lifetime Television's The Balancing Act, we promote overall healthy living, including regular exercise and a balanced diet. We recommend incorporating strength training, flexibility training, and aerobic activity into your weekly fitness regimen, always consulting with your doctor before making any lifestyle changes.