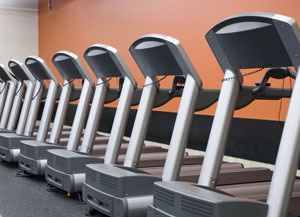 In the late 1960s, New Jersey resident William Staub built his first treadmill using four steel rollers covered with an orange belt, a motor, and orange dials to determine speed and time.
Fast forward more than five decades, and the engineer turned health and fitness pioneer transformed the way people exercised by transforming a tool formerly only used by doctor's offices into a piece of exercise equipment the average American could afford.
The 96-year-old developer of the home treadmill died Thursday in Clifton, N.J.
"From a public health standpoint, it's so encouraging. He really took away the excuse of the weather's not conducive to exercise today," Barbara Bushman, professor of kinesiology at Missouri State University told the Associated Press. "The neighborhood conditions are not safe or optimal; it's an early morning. All those excuses are really taken away with this one piece of equipment."
No matter where you choose to work out, chances are you have access to a treadmill at your home, office or gym. To maximize your workout, try a high-intensity interval program, which tends to burn more calories than low intensity training.