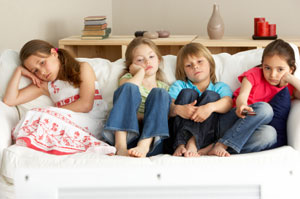 Ever thought watching Dora the Explorer or Max and Ruby could impact your child's athletic prowess? Well, a new study conducted by researchers at the University of Montreal and Sainte-Justine Mother and Child University Hospital in Canada suggests just that.
Although scientists have already proven a correlation between preschool TV exposure and body fat in 4th-grade children, the most recent research details a specific correlation between waist size and their performance in sports.
In a survey of more than 1,300 children ages 2 ½ and 4 ½, researchers found that each hour of TV was consistent with a reduction in the distance kids were able to jump – a skill necessary in the performance of football, skating, basketball and many other youth sports.
The 2 ½-year-olds experienced a positive difference of 0.13 inches in their waist sizes, while 4 ½ year olds had a difference of 0.019 inches in their waist for every hour of TV they watched above their weekly dose at the age of 2 ½.
On average, the younger control group watched about 9 hours of TV a week, while the older group watched nearly 15 hours a week.
"The bottom line is that watching too much television – beyond the recommended amounts – is not good," senior study author Dr. Linda Pagani said in a university news release. "There have been dramatic increases in unhealthy weight for both children and adults in recent decades. Our standard of living has also changed in favor of more easily prepared, calorie-dense foods and sedentary practices. Watching more television not only displaces other forms of educational and active leisurely pursuits but also places them at risk of learning inaccurate information about proper eating."