With a myriad of class options out there, there's no shortage of fun ways to get fit! Seeking out different ways to stay physically active allows you to not only challenge your body in new ways, but also add some fun and excitement to your workout routine! Let your inner athlete shine or perhaps kick off your shoes as you experience fitness in an entirely new way.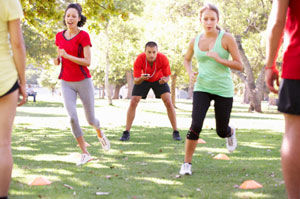 Boot Camp - Boot camp has become a catch-all phrase for interval-style conditioning classes that combine high-intensity cardio with challenging strength work, often with less equipment and a "military" mindset. These group experiences (both big and small) can be found in health clubs, at personal training studios and even in parks. Originally, boot camp sprung from military-inspired workouts with "drill sergeant" type coaching techniques. You will still find boot camps that follow this formula, but you'll also find offshoot classes like CrossFit that have the same with different exercises. One thing is certain, if you engage in boot camp be ready to work, as research has shown this style of workout burns some serious calories! Classes tend to move fast with very little downtime and the challenging exercises. The camaraderie makes the experience fun and may push you to do things you probably would not do otherwise, which can be good (or bad!). Be certain to work up to a boot camp (be in good physical condition, free of joint pain or injury) and listen to your body! Athletic wear is the best option, and don't forget your towel or water bottle for this workout.
Barefoot Training – Barefoot training is a trending topic everywhere you turn. If you haven't seen Vibram shoes or heard of someone tackling a 5K barefoot, stay tuned! Of course, Yoga, Pilates, and Barre classes we've discussed before qualify as barefoot workouts and can serve as a perfect place to experiment with your feet before going full tilt with this trend. Niche classes that require you to take your shoes off and perform a wider variety of higher intensity and higher impact exercises are cropping up as well. There are several reasons sited for working out barefoot and it makes sense that exercising the feet should be equally as important as any other part of the body (did you know there are over 100 muscles, tendons and ligaments in your feet?) However, tread carefully. As with any type of exercise, you need to progress to working out new muscles or you may end up with injuries. Try wearing a minimalist shoe first, perhaps around the house, and increase the time spent in your new kicks. Then, try a lower impact or strength training class while wearing them before you work up to the "real deal" barefoot experience. Once you find a class you like, take a look at it from the outside and see if you think the exercises would work for your feet. And, of course don't be afraid to talk to the instructor. Find out what educational information they have about working out barefoot and ask if they offer exercise progressions in bare feet, such as specific modifications or conditioning exercises you experience if your feet are screaming at you during class.
Sports Conditioning – Much like boot camp, there are many different renditions of sports conditioning classes. They all have one thing in common though – the absence of rhythm and choreography! These classes are predominantly male (no offense) and non-dancer friendly, as they are typically higher intensity, interval-type classes that use cardio drills focusing on agility, conditioning drills focusing on strength and power, and a heavy dose of functional balance skills. Time is more important than music, energy is always high, and sweat is abundant. It's a great class for those seeking to tap into their inner athlete, work harder and include teamwork or partner opportunities for accountability and competition. Bring a friend, put your eye black on and get in the game for a fun workout!
Wondering what takes place in various group fitness classes? Learn more about fun and effective class options, from kettlebell training to pole fitness!