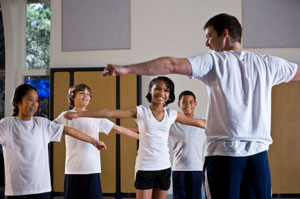 An article in The New York Times on Tuesday stated that despite rigorous efforts by First Lady Michelle Obama and the President's Council on Youth Fitness to reduce the rate of childhood obesity, many schools have all but eliminated gym time.
In a survey of high school students across the nation, the Centers for Disease Control and Prevention (CDC) found nearly half had no physical education classes in an average week. Elementary schools in New York echoed the same somber findings, as did a survey of San Francisco's elementary schools conducted by researchers at University of California, San Francisco.
Only about 20 percent of elementary schools in the City by the Bay were meeting the state's minimum requirements for physical education: 20 minutes per day.
While some schools have battled back against funding cuts with grassroots efforts or part-time gym teachers, many have resulted to cutting physical activity altogether.
The findings come on the heels of a CDC report published earlier this year in The Journal of the American Medical Association that showed 35.7 percent of adults and almost 17 percent of children were obese in 2009-2010. According to ObesityinAmerica.org, another one-third of children born in 2000 will eventually develop obesity-related diabetes.
For ACE, reducing – and in many cases eliminating – physical activity is not the answer. Aside from the numerous health benefits that come with living a healthy lifestyle (and instilling the value of it at an early age), physical activity can even influence better academic performance in students.
Operation FitKids®, a free curriculum designed for educators looking to integrate health and fitness into classroom learning, are available on the ACE website. Designed by ACE for children in grades 3-5 or 6-8, parents can also use the resource as a way to make activity a daily part of their kids' lives.