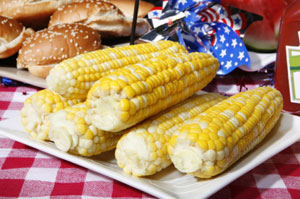 With July Fourth barbeque celebrations around the corner, you may be considering how to add a healthier touch to favorites like hamburgers, sausages and hot dogs, potato salad or chips. With just a few simple substitutions and additions, you can grill up a delicious and healthy spread to please your guests' taste buds and waist lines.
Hamburgers
Hamburgers are an essential item for any barbeque. While you may have picked up some veggie burgers for your vegetarian guests or turkey burgers for those watching their saturated fats or calories, trying this recipe will give all of your guests the delicious taste of chargrilled burgers plus a couple of servings of vegetables! This recipe was created by pediatrician Mary Saph Tanaka and is kid- (and adult-) tested with glowing reviews.
"Veggieful" Hamburgers
1 lb lean ground beef or turkey
2 cups shredded vegetables (carrots, zucchini, peppers),br/> 1/2 cup uncooked oatmeal
1 tsp of salt and pepper
Whole wheat hamburger buns
Toppings: Lettuce, tomatoes, onions, mushrooms, cheese
Hamburger patties: Mix vegetables, meat, salt, pepper and oatmeal in a bowl and stir. Take two large spoonfuls of mixture, roll into a ball and then flatten to form a patty.
Place pan on stove at medium heat. Place 1 TBS of olive oil in the pan. Place patties in hot pan and cook for 5-6 minutes on each side. Serve on hamburger bun with your favorite toppings!
Sausage and Hot Dogs
With sausage and hot dogs providing more than 25 percent of the recommended daily amount of saturated fat, cholesterol and sodium in a single link, these barbeque favorites are definite "sometimes foods" (i.e. eat sparingly). Cut down on calories and saturated fat with a grilled chicken sausage. Many grocery stores and markets offer a large variety of chicken sausages- from spicy Italian to apple chicken for guests who prefer a sweeter taste, or a simple plain chicken sausage option perfect for loading on healthy toppings.
Potato Salad
Dripping with fat-filled mayonnaise and at high risk for spoilage in the hot summer sun, potato salad is a definite July Fourth staple to substitute (if for no other reason than to eliminate the risk of your guests remembering your party as the place they became violently ill from food poisoning). For a healthy and delicious new twist on the holiday favorite, try whipping up Pea and New Potato Salad.
Corn on the Cob
Freshly picked corn is a summer barbeque essential. For best results (both taste and presentation), grill the corn in husks. Here's how:
Take a peek behind the husk to check out the corn tip at the grocery store or farmer's market. Choose only the corn with tight rows of kernels that are plump and appear somewhat milky. The husk should be a bright green color and fit tightly around the kernels.
Soak the corn with husks in water for about 15 to 20 minutes. Remove from water and shake out excess moisture.
Peel the husk back (but do NOT remove from the cob) to remove the silk
Butter lightly or spread a thin coat of olive oil and then sprinkle with your favorite fresh herbs such as oregano, cilantro or basil.
Place the corn on a medium-heat grill. Rotate as need to avoid charring. After a few turns, move to indirect heat and close grill cover. After about 15 minutes when husk starts to pull away from the tip of the ear, remove from grill.
Add butter or other seasoning, if desired and enjoy!
A Salad for Good Measure
It is not uncommon to have some sort of lettuce salad at a July Fourth barbeque, but oftentimes the salad is drab and unappealing, or simply a bowl of nutrient-void iceberg lettuce. Add color and nutritional value to your salad by mixing in a variety of colorful fresh summer produce. One idea is to toss together fresh spinach, cherry tomatoes, blackberries, walnut pieces and feta cheese. Mix in raspberry vinaigrette for a summer salad favorite the guests will love.
Beverages
In addition to the standard beverages (such as beer, soda, lemonade and tea), show your patriotism and spruce up plain water with a large, clear glass pitcher of ice water flavored with bright red watermelon slices and blueberries. Alternatively, consider making ice cube trays with small chunks of colorful fresh fruits.
For more ideas for a fun and healthy holiday, check out these five easy July Fourth tips!