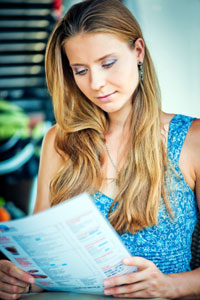 You don't have to have a degree in dietetics to approach going out to eat wisely, but learning from those who do can help you to take the guesswork out of navigating the plethora of dining options available. Whether you're seeking gluten-free fare or just looking for healthy options while traveling, our experts share tips they swear by when going out to eat, and the spots they opt to dine for a quick bite or a casual dinner.
Dining with a Dietary Consideration
by Alysa Bajenaru
As a new celiac, ACE-certified Group Fitness Instructor and Registered Dietitian Alysa Bajenaru had to do a bit of research to find out which restaurant options could accommodate her nutritional concerns. "I have had to learn about what restaurants are safe for me to visit and which ones are probably not the best choices for gluten-free options," said Bajenaru, a busy mother of two who has had a passion for food and healthy living since she was a child.
Fast Food
Where she goes: So far my favorite fast food restaurant is Chipotle. Not only do they do their best to use sustainable and ethical ingredients (and even local ingredients when possible), they also do a great job safely preparing gluten-free food, the entire process of which I can watch. When I walk in and tell them I am placing a gluten-free order (something I never have to explain), they immediately remove their gloves, wipe down the prep area, wash their hands, put on clean gloves, and get new utensils for anything that will be in my order.
What she eats: I usually order a burrito bowl with brown rice, black beans, fajita vegetables and carnitas, along with corn salsa and lettuce.
How she keeps it healthy: I ask for a lid because I only eat half, and I take the other half home for lunch the next day. I also avoid cheese, sour cream and guacamole, which helps save a ton of calories. With so many other flavors in the bowl, I don't miss them.
Casual Dining
Where she goes: Eating out is a treat, so I enjoy eating foods that I don't usually make at home. On date nights, my husband and I usually opt for sushi, as it's an easy meal to do gluten-free.
What she eats: Most restaurants have a gluten-free menu, but if they don't they at least have gluten-free tamari. I make sure to order simple sushi and rolls, and ask that they be prepared on a clean cutting surface with a clean knife.
How she keeps it healthy: Lucky for me, simple rolls like a vegetable, tuna or salmon roll have fewer calories. Not only do I prefer the taste of these rolls over those that are fried and filled with cream cheese, but they are also much healthier, as more elaborate rolls can often have two or even three times as many calories.
Eat Smart Strategies for Those On the Go
by The Nutrition Twins ®
As ACE-certified Personal Trainers and Nutrition Experts, The Nutrition Twins®, Tammy Lakatos Shames, RD, and Lyssie Lakatos, RD, authors of the book "The Secret to Skinny," are always on the go. But they don't let their travels derail their healthy lifestyles. While they don't dine out at fast food establishments often, when they do they come prepared!
Fast Food
Where they go: Wendy's
What they order: When we travel, we both usually carry along seal-pack pouches of tuna as a good source of protein to throw on a Wendy's garden salad in sticky situations. In those times when we may not have tuna handy, we often will order a Wendy's salad and a small chili and use the chili instead of salad dressing and make a hearty salad with it.
How they keep it healthy: We both ask for a side of the steamed broccoli that comes on top of the baked potato to add that to our salads for extra veggies. This helps us to fill us up with fiber and nutrients without a lot of calories.
Casual Dining
Where they go: Cheesecake Factory
What they order: We typically will order the grilled fish, and will swap out rice sides for steamed veggies and request that no butter or oil be added to the veggies. Depending on what else is being served, we may have cantaloupe or half of a small baked potato with lemon for some carbohydrates.
How they keep it healthy: When ordering grilled fish we first ask how it is prepared. Often, if you don't request that they do not add butter or oil to the grilled fish they will add it, which can tack on hundreds of unwanted calories. Instead we ask that they add minimal amounts of oil or butter to the fish to keep the dish healthy.
Portion Control Approach to Healthy Eating
by Ruth Frechman
ACE-certified Personal Trainer and Registered Dietitian Ruth Frechman not only talks the talk as author of "The Food is My Friend Diet," she also walks the walk with how she approaches her own dining experiences. Frechman opts to keep her food orders simple and follows the MyPlate guidelines at every meal.
Fast Food
Where she goes: McDonalds or Wendy's
What she eats:I order plain and simple at restaurants and follow MyPlate guidelines. Restaurant meals tend to be loaded with calories because of the portion size and fat content. Above anything else, the number one factor I consider is my hunger level. How hungry I am determines how much I eat, and if I worked out or plan on working out, I can order more calories than usual because I know that I burned a lot of calories or will be burning them following the meal.
How she keeps it healthy: When I order a burger, I skip the cheese and bacon- too much saturated fat and too much sodium. If I really want fries I will have a few from someone else. I also don't waste calories on a beverage. Instead I opt for water or unsweetened iced tea with lemon. It takes a certain amount of planning to make sure you are getting the nutrients that you need for the day. If I'm hungry and need to fulfill the vegetable requirement, I'll order a burger and salad. I always eat the bun because I know my body needs low-calorie carbohydrates for energy.
Casual Dining
Where she goes: I like Chinese food, and this style of cuisine makes it easy to follow the MyPlate guidelines (a little bit of protein, a little bit of carbohydrates and half the plate of fruits and vegetables).
What she eats: I choose a dish with beef or chicken since I am allergic to shellfish, and the portion size will look like a deck of cards. I like chow mein noodles, so depending on my level of hunger I will eat a 1/2 to 1 baseball size portion. The other half of my plate will be filled with vegetables, which is easy to do with Chinese. Personally I don't like a lot of sauce, so I try not to let the food soak up too much, as many sauces are high in sodium.
How she keeps it healthy: Basically I don't use my eating out calories on beverages, fried foods or desserts. I also do not go back for seconds, as even though the food may taste good I know that nine times out of 10 it will leave me feeling stuffed.
Tips For Keeping On Track with Weight Loss
by Gina Crome
After losing 172 lbs, ACE-certified Personal Trainer and Registered Dietitian Gina Crome knew it was imperative she change the way she thinks about food in order to maintain her weight loss success. "I've realized that it's important to take a step away from the all-or-none thinking and stop viewing food as either good or bad," said Crome, who shared with us the top three tips she shares with her clients and personally follows herself when dining out with friends or family.
Tip #1- Take Advantage of the Information Available
Wherever you dine, you can always make good choices. Most of the larger chain restaurants have nutritional information printed either directly on their menu or order board. Keep in mind that these numbers offer an opportunity to make an informed decision.
Tip #2- Cut the Calories in Half
Remember, you always have the option of either splitting a meal with a friend or taking half home in a doggie bag to easily cut the calories of any meal in half.
Tip #3- Meal Component Swaps
Swapping fries for a side salad, or asking for grilled instead of fried, are good ideas but these typical meal swap recommendations are only good if you don't see them as a take away. I like to look at what parts of the meal I really want and what pieces I can live without. For instance, if I'm craving a fast-food burger, I'll have it. To save at least 200 calories from that burger, I order it without cheese or mayo. I choose to pass on the ingredients that mean less to me while still enjoying the foods I like in a way that fits my dietary goals. As a dietitian, I encourage my clients to do the same as a strategy for making their eating plan more of a healthy lifestyle as opposed to a deprivation diet.