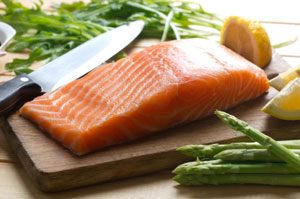 Forget about supersizing it – how about trying a "superdinner?" After years of exploration, scientists at Britain-based Leatherhead Food Research have served up what they claim is the world's healthiest meal, complete with dessert.
The first course is smoked salmon terrine, known for brain and heart healthy omega-3 acids, and a mixed leaf salad with extra virgin olive oil dressing to maintain healthy cholesterol levels.
The second course is chicken casserole with mixed vegetables, a dish complete with muscle-building protein and lentils to reduce fatigue and boost brain power. Then there's dessert – a yogurt pudding topped with walnuts and sugar-free caramel-flavored sauce.
Why those foods? Researchers say they took more than 4,000 health claims by food sellers and boiled them down to 222 that were actually based on scientific facts. Then they applied those remaining claims to create a meal packed with maximum health benefits.
Some registered dieticians and health experts who have weighed in on the experiment say there are numerous other meal combinations that can pack the same nutrients necessary for heart health, brain function and muscle building.
Try your hand at creating one by checking out what a registered dietician keeps in her pantry. Or explore other healthy recipes.