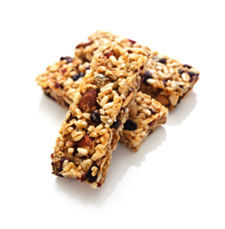 With frequent and grueling training sessions a normal part of Marine Corps boot camp, it's no wonder the military is exploring ways to keep their candidates adequately fueled.
A new pilot program at Corps' recruit training depots in San Diego and Parris Island, S.C., and Officer Candidate School in Quantico, Va., is testing the effectiveness of two particular nutrient bars by giving them to recruits following workouts.
According to a Marine Corps Times article published Saturday, male recruits and officer candidates are given Cliff-brand bars and women are given Luna-brand bars within 30-45 minutes of workouts.
The study has been ongoing since at least April, with no results announced yet. The goal is to test the how well large doses of protein and other nutrients help athletes recover and heal after strenuous workouts.
According to Registered Dietitian Julie Burks, an ACE-certified Lifestyle & Weight Management Coach, "It is pretty well established that consuming protein along with carbohydrates within 30 minutes post strenuous exercise improves muscle recovery. Clif and Luna bars are a portable, convenient way to provide protein and carbohydrates in a healthy, tasty way."
What's your favorite post-workout snack?