Nothing sounds more refreshing that a nice cold smoothie on a warm summer day, right? But what if it was made with some not so common ingredients that packed a nutritional punch- would it still be tasty? Inquiring minds want to know, so we consulted registered dietitians and nutrition experts and asked them each for their favorite smoothie recipe that is not only delicious and nutritious, but also a bit unusual. We then put those smoothies to a taste test with a random sampling of our very own ACE staff to find out just how yummy these easy to make smoothies really are!

The Bee's Knees Superfood Smoothie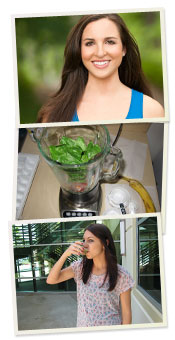 by Kristen Carlucci, RD
Ingredients
1/2 banana, frozen
1/2 cup strawberries
1 Tbsp. bee pollen (this can be found at your local health food store)
Handful of spinach
1 scoop chocolate protein powder
1/2 cup original unsweetened almond milk
1/2 cup water
6 ice cubes
1 packet Stevia, for added sweetness (optional)
Directions
Combine all ingredients, blend and enjoy!
"With ingredients like banana, strawberry, spinach and almond milk this smoothie is a nutritional powerhouse all on its own, but the real superfood celebrity in this smoothie mix is bee pollen.  Containing essential amino and fatty acids, antioxidant-rich flavonoids, and all of the major vitamins and key minerals, bee pollen has also been found to boost energy levels, reduce inflammation and prevent seasonal allergies."
ACE Taste Test Results
Not only did our selected staff members think this smoothie had a great name, but Sarah Chambers, ACE Social Media Specialist, and others mentioned that this creative smoothie also tasted delicious. Being that this recipe includes protein powder, several of our taste testers mentioned it did have a slight chalkiness to it, so be sure to blend this smoothie thoroughly. You can also experiment with a few different brands of protein powder to find one that not only blends wells but tastes great.
Banana Berry Ginger Smoothie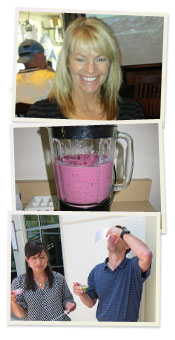 by Julie Burks, MS, RD, CSSD; ACE Lifestyle and Weight Management Coach
Ingredients
1 cup nonfat vanilla yogurt
1- 1 ½ cups frozen mixed berries (blueberries, raspberries, strawberries)
½ cup nonfat milk or soymilk
¼ cup berry juice
1 tsp. vanilla extract
1 banana
1 tsp. fresh grated ginger
¼ tsp. cinnamon
Directions
Place all ingredients in a blender.  Blend until smooth.  Serves 2.
"Adding fresh ginger to a smoothie not only gives it a kick, but ginger is also known to have health benefits such as calming an upset stomach, helping cold and flu symptoms and decreasing inflammation, which may be beneficial after a tough workout. "
ACE Taste Test Results
Overall our ACE taste testers felt this smoothie was a good "intro smoothie," as Matt Gossman, ACE Online Content Producer, said, it was the most similar in taste (and appearance) to something you would get at your favorite smoothie shop. Robin Floyd, ACE Continuing Education Coordinator, noted "this smoothie tasted really yummy and had a great tart berry flavor." This could be a good option for those just starting to branch out in their smoothie exploration.
Lean and Green Smoothie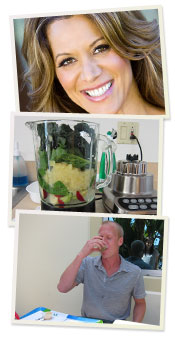 by Tiffani Bachus, RD
Ingredients
2 cups of water
2 cups fresh spinach
1 cup kale
1 kiwi
1 apple
½ cup pineapple
1 slice of lime
1 oz. avocado (approximately 1/6th)
Directions
Place all ingredients in a blender and process until smooth.  Serve cold.
"This lean green smoothie recipe is a nutrition powerhouse, with key fruits and vegetables to nourish your body, help burn fat and fight off post-workout inflammation.  Adding avocado to your green smoothie creates a smooth, creamy texture, plus avocados contain L-Carnitine (an amino acid) whose primary role in your body is to help metabolize fat and promote fat loss.  Pineapple is loaded with bromelain and papain, enzymes that help minimize post-workout inflammation".  
ACE Taste Test Results
The vast majority of our taste testers, including Todd Jones, ACE Commercial Accounts Representative, really enjoyed the crisp, fresh taste of this "healthy tasting smoothie." While many agreed the flavor was great, some felt the smoothie needed to be blended a bit more for a less clumpy consistency. For a smoother version of this smoothie, a high quality blender like a Vitamix may be helpful, or just simply try cutting the ingredients, such as the apple and kale, into smaller, easy-to-blend pieces.
Honey and Spice Squash and Pear Smoothie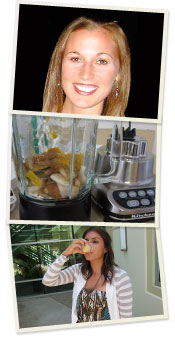 by Emily Ann Miller, MPH, RD
Ingredients
½ cup roasted butternut squash OR  one 4 oz. jar of squash baby food
1 small ripe pear, peeled
6 oz. honey-flavored Greek yogurt
¼ teaspoon pumpkin pie spice
Directions
Blend all of these ingredients and adjust their amounts if you prefer more or less of any one of them.
"Most Americans don't eat enough vegetables, but meeting recommendations for veggie intake might not be so hard if they knew how easy and tasty it is to add them to smoothies. Butternut squash, a member of the gourd family, along with pumpkins and melons is a nutritional standout. Half a cup cooked butternut squash has 40 calories, 3 grams of fiber, is an excellent source of vitamins A and C, and provides a good amount of potassium It's also a great source of carotenoids, a class of antioxidants that is associated with benefits to heart and eye health. In addition to its nutritional benefits, its mildly sweet flavor and creamy texture make it a great asset to this smoothie recipe."
ACE Taste Test Results
While some of our staff, like Chris Gagliardi, ACE Study Assistance Administrator, enjoyed the thicker consistency of this unique smoothie, several others mentioned the thickness from the yogurt was a bit of a turn-off. Depending on your textural preferences, you may want to consider adding a few ice cubes or a splash of water to slightly thin out the smoothie. I personally tried this at home with just a few spoonfuls of water following our staff taste test and found that it changes the consistency greatly, making for an extremely tasty, easily drinkable summertime treat.
For more delicious, nutritious, easy to make smoothies, try these free recipes and for even more healthy meal ideas check out Fit Food: Eating Well for Life, a new kind of cookbook that combines practical nutrition information with delicious healthy recipes from nationally-recognized chefs.