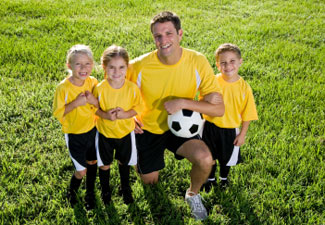 With summer youth sports leagues starting up, it's important for parents to focus on the most important aspect of youth athletics: how to keep them fun! Recent survey data released by i9 Sports found that of 300 children ages 8-14, a staggering 84% stated they have quit or have wanted to quit sports. Why? The survey revealed 47% of the kids felt that sports weren't fun, even though 56% of the surveyed children stated that their No. 1 reason for playing sports was to do just that -- have fun.
So where did all the fun go? According to 36% of the surveyed children who reported witnessing a verbal fight between parents at games and 31% who wished adults weren't watching their games, there seems to be one common theme -- parents. Follow these five simple "rules" parents like you can help to bring the fun back to youth sports.
Rule #1: Release Your Child to the Whole Experience as Soon as Possible
As soon as you know that your child is physically and emotionally safe, one of the best gifts you can give them is to let the activity become theirs by taking small shifts of responsibility. "Releasing" your child to the team, the sport and the coach means trusting their athletic destiny to them instead of trying to control it. All the successes and all the struggles that come with sport participation are theirs.  Be there to support and encourage but by taking a step back, it allows athletes to take more responsibility and accountability for their experience. Developing healthy and positive relationships with other adults helps their growth and confidence, so be thankful for those adults outside our families who walk along side of our kids with us. 
Rule #2: Model Behaviors We Expect Them to Exemplify 
"Young people need models, not critics."  - John Wooden.
Consistently demonstrate the behaviors you want your child to learn from this experience. Respect others. Win and lose with equal grace. Be a model of poise and confidence. Be the face your athlete needs to see during competition. When parents blame or complain about officials or coaches they are probably raising an excuse maker. Although it may help you vent, remember it is never good for the athlete when parents are critical of coaches or officials. Whether you agree or disagree, learn to accept the judgment of the officials and coaches. Accept the results of each game. Do not make excuses. And be an example for your child by staying physically active throughout your life.
Rule #3: Be Aware of Your Words, Reactions and Body Language
Your child should never look at you for approval when they are competing, but if they do what will they see?  The last thing any young athlete needs during a game is to worry about their parents being upset or stressed about their performance. Anything we do that would make them feel like their value to us is somehow tied to athletic performance or outcomes of games, good or bad, has long-term negative effects on most kids. Winning or performing well does not mean we are better parents or that they are guaranteed a more successful life. There is a fine line between involvement and interference and between encouragement and pressure. The athlete can feel it.
Rule #4: Stop Hovering and Wanting Everything to Go Perfectly
There is only one guarantee in any sport season -- it will not be perfect. Let go of perfection and the desire to  save them from every problem. Difficulties are either opportunities for children to persevere and grow, or opportunities for us to "rescue them." Let them be responsible for their own bag. If they forget their shoes or jersey, it will probably never happen again. Athletics provides a place where we can "cut the cord." Don't try to smooth out all the bumps in the road. Let them grow by giving them a chance to figure things out. By solving everything for them, the message to them is that you don't think they can handle difficult situations. Give them the tools and then let them become a problem solver. There is no better place than athletics to learn to take healthy risks and to fail. Let them take the natural risks involved in sport without worrying. Teach them that failure is part of the experience and it doesn't mean that they are a failure. Encourage healthy risk taking and then let them live with the results. Over scheduling and over managing can create more stress and anxiety, hurt performance and ultimately take the fun out of the game. Also, avoid the natural tendency to critique the game. Demonstrate respect by giving the athlete time and space after competition. The less often you give advice, the more likely they are to ask for it.
Rule #5: Of the Four Roles – Choose One
In every athletic competition there are only four roles – players, coaches, spectators and officials. Before you get to the game, it is better for the athlete if everyone chooses one of those roles. Trying to get the team to perform well is the responsibility of the coaches and the players. It is the job of the official to make the judgment calls. The parent can contribute by being an encourager and confidence builder. It is not your responsibility to try and win or influence the outcome of the game from the bleachers.
Following these simple tips will help you become an integral part of creating good athletic memories for your child, enabling them to establish a positive relationship with physical activity so they can continue to incorporate it their entire life.
For more great ideas on how keep kids physically active and having fun both on and off the field, visit the ACE Youth Fitness section and empower your children to develop healthy habits for life.