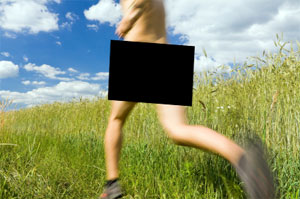 Most everyone has heard that exercise can help control stress. The flood of endorphins and flash of neurotransmitters can make people less jittery and anxious, and even help them eat more nutritious food.
But how about exercising naked?
Running enthusiasts across the country are breaking the racing mold by running, biking and even swimming in the nude. The Butts A'runnin website has compiled a laundry list – albeit a relatively short one – of "clothing optional" and "nude only" events from Tennessee to Pennsylvania.
Runner's World magazine even featured a play-by-play account of one participant's experience in the 3rd Bare Hare Duathlon last year in Palmerton, Penn.
That's one way of breaking out of the running rut.