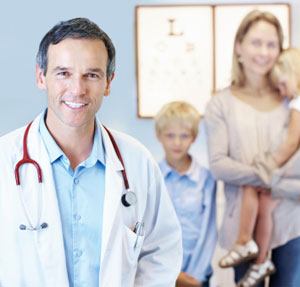 Parents invest a tremendous amount of time, energy and resources into raising healthy, well-adjusted children. At times, this responsibility may overwhelm or stump even the most put-together parent. Your child's doctor can serve as a resource and ally in the very important and challenging role of ensuring the health, safety and well-being of adolescent children.
At each routine check-up or sports physical, pediatricians discuss a variety of topics with patients and their families, such as safety, development, behavior, nutrition and physical activity. As a parent, one of the most important steps you can take to build a solid and healthy partnership with your child's doctor is to come prepared and speak up at doctor's visits. In other words, take the opportunity during check-ups to engage your child's doctor in your pursuit to optimize your child's health.
One way to strengthen the parent-pediatrician partnership is to ask the right questions. The following are a few questions you may consider asking your pediatrician, along with some background information that may help you best use the information.
1. How is my child's overall health and development?
Your child's doctor should do a complete physical exam and a developmental assessment of your child at each check-up. Oftentimes, he may simply state your child is doing well or suffers from some minor medical ailment or injury. To gain the most from the visit, push the doctor a little bit more to state a global assessment of how your child is doing in comparison with the last check-up and standards for his age and grade. When an interested parent directly asks the question about their child's health and development,the doctor is more likely to share specific information and recommendations. This is also a good time to get reassurance that your 2-year-old's temper tantrums, 4-year-old's constant questioning and negotiating or preteen's evolving rebellion, for example, are normal developmental milestones. The doctor may also offer some advice on how to shape your child's behavior to optimize his or her function with family and peers.
2. What's my child's BMI and what does it mean?
The unfortunate reality is that childhood obesity, physical inactivity and very poor overall eating habits are widespread throughout the United States and the world. Given this significant health risk for kids both during childhood and once they become adults, pediatricians have become more diligent in assessing a child's weight, nutrition and activity habits. This includes measuring body mass index – commonly referred to as BMI – which is a measure of a child's height and weight. BMI helps categorize your child's weight status. Your child's doctor should plot BMI as well as height and weight at every well-child visit, show you the growth chart and explain what your child's stats mean.
About one-third of kids are classified as overweight or "obese" based on BMI. Discussing weight can be a very sensitive topic for parents, children and the child's doctor. While a preference and tendency may be to avoid the conversation, if parents, pediatricians and children form a strong partnership, they can become a potent force in the effort to improve a child's nutrition, activity and weight. The first step to creating this partnership is to feel comfortable and prepared to have the difficult conversation.
3. Can we brainstorm potential strategies to help improve my child's nutrition and fitness?
Even if your child is at a perfect weight, chances are pretty good he has some less-than-ideal nutrition or physical activity behaviors. Challenge your child's pediatrician to actively engage you in coming up with a doable plan to help optimize your child's health. The American Academy of Pediatrics recommends promotion of the 5-2-1-0 campaign to promote healthy weight:
5 servings of fruits and vegetables per day
2 hours or fewer of screen time per day (including TV, computer, video games, cell phone games etc.)
1 hour of physical activity each day
0 servings of sugar-sweetened beverages per day
4. What is our ultimate goal?
Whether related to nutrition, fitness, school performance, behavior, overall development or some other aspect of your child's health, each check-up offers an opportunity to identify an area for continued improvement. Together, parent, child and pediatrician may collectively identify a SMART goal (specific, measurable, action-oriented, results driven and time bound) that will help your child be healthier. Have a plan for monitoring the goal and following up with your child's doctor.
5. What resources are available to help us in this community?
While so much effort is spent on discussing individual choices, the reality is that multiple factors come into play in the development of healthy nutrition, activity and lifestyle habits. Communities generally contain many assets and opportunities for healthy activity and nutrition. Pediatricians are often familiar with programs available nearby, and if you ask, your child's doctor may be able to provide a large range of potential programs and opportunities for your child to enhance his or her health and development.
While even the most motivated children, families, doctors and communities are up against powerful barriers in the pursuit to improve health and quality of life in children, when parents and pediatricians work together to foster a strong partnership, a child benefits immensely. One way to nurture this relationship is to take an active role in doctor's visits and ask all the right questions to get the answers you need to help your child thrive.
Adapted and excerpted from "Eat Your Vegetables" and Other Mistakes Parents Make: Redefining How to Raise Healthy Eaters (Healthy Learning 2012).