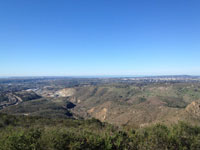 Jessica
Exercise Physiologist
I always look for opportunities to take my workouts outdoors, and one of my favorite places to go is Mission Trails Regional Park. There are so many great hiking trails there and I love being surrounded by nature, so I'll often head out for an hour or two hike with my two dogs. This is a picture from the summit of one of my favorite trails there. Every time I make it to the top it always gives me such an amazing feeling, as I love just being able to take in all of the beautiful sights.
---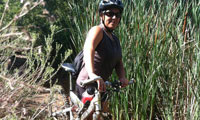 Sue
Exam Registration Manager
I spent years as a long distance runner, but have found that taking a break is always a good thing. I love to head outdoors for a nice hike or easy run after work, but when the weekend arrives I like to get out on my mountain bike in search of the trails I haven't covered on foot yet!
---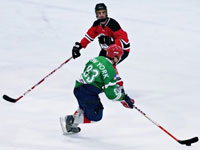 Scott
Director of Marketing
Just about every Thursday night I skate with the boys at Iceoplex in Escondido. It's a competitive league with enough intensity that every skate is a great workout. I can tell it's a great workout because if I miss a week I can guarantee that the following week I will be complaining about a lack of stamina and fighting leg burn 20 seconds into every shift. I play on The Rockers, which we call a "United Nations" team of hockey because the players are from Boston, Chicago, Michigan, Alberta, Montreal, Toronto, Serbia, Russia and the Czech Republic. The core group has been together for years, and what brings us to the rink every Thursday night is less about winning and more about being on a team with a group of guys that like to play together. We were league champions in Winter 2011/2012 and won a long sleeve T-Shirt that said "Champions" on it. This was either an upgrade or a downgrade from the embroidered towel that we won 3 years ago (it had been a long drought). In 2009 we also won a cooler which we still keep our beverages cold in. Here's a picture from the 3rd of our best of 3 championship game vs. The Hosers, which we hung on in the last seconds to win. That's me in red.
---
Kickstart or re-start your habit of working out with the ACE PALA+ Challenge, a 12-week cardiovascular and resistance workout plan designed to help you get moving. Get motivated or just follow the conversation on Twitter by using #30DaysofFit.