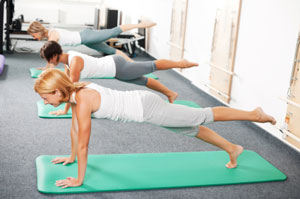 You're just finding your way, and after trying a few of the group fitness standards, you've decided Group Fitness is here to stay (at least for YOU anyway)! You love the energy of a class and the watchful eye of the motivator/educator/entertainer at the front of the room. But then again, you want more. With all the choices it's hard to figure out what you should try next. Take a look at a few of the 'trending' classes below. Check out a few you may want to review and jump into the next time you're at the gym.
Pilates
If your interest lies right around your midsection and you've been enjoying core classes (or ab classes), Pilates could be calling your name. Pilates is another 'gentle' class (note, I did not say EASY!), that's low (or virtually no) impact but intense in an entirely different way. It focuses on the "power house" (also known as your core) and attacks the area in a three-dimensional way with a variety of positions from the inside out. You'll find Pilates Reformer and other apparatus classes (usually for a fee and set up much like personal training or small group personal training) at many clubs and Pilates specific studios. I generally suggest folks start their journey here to make the most of the mat classes that are offered more frequently and, usually, free of charge. While mat classes may be more accessible, it takes a very special mix of instructor and student to feel the full benefits of this program similar to the initial feedback you feel when you're just getting started with equipment. If you can find small equipment-based Pilates mat classes, that would be another great place to begin (use of Magic Circles, Balls, and more). Typically, you are barefoot in these classes and cues focus on QUALITY, not quantity, of movement. You do far less repetitions than in a core or strength training class. Ladies, wear form-fitting pants for the most comfortable experience, and make sure the studio provides cushy mats for floor exercises to add to your comfort as well.
Kickboxing
Kickboxing is still going strong in many facilities across the world. Of course, the types of classes you'll find are as varied as the days are long. There are martial arts-influenced workouts (especially popular now are Mixed Martial Arts, or MMA, classes), ropes & bag classes, contact kickboxing and more dance-influenced kickboxing classes that have evolved from hi/low aerobics. You'll need to ask a few more questions before making a buying decision on this one as the name does not always give you an idea of what you're getting yourself into. Read the description and interview the instructor or group fitness manager to learn more. Depending on the type of kickboxing you find, you may experience an interval-type class that fluctuates between intense cardio rounds and less intense strength rounds, or a class that's intense from start to finish! No doubt, it's a great cardio conditioning option. It's always a good idea to find a spot in class that provides good visibility in the mirror to assess your form. When in doubt, check with the instructor before or after for technique tips as class goes fast. Avoid locking your joints (especially elbows and knees) when you throw punches or kick. Kickboxing is high energy and a great way to torch calories if you're up for the challenge!
Barre/Ballet Conditioning
Barre classes are popping up all over the place! Ballet conditioning significantly rose in popularity after the 2010 movie, "Black Swan," though many classes of this genre have existed for decades. Ballet conditioning is a brilliant way to earn the benefits of a Pilates practice off the mat and get a bit more sweat going. Movements will focus on core conditioning, flexibility, stability and mobility, and often times, encourage external rotation to focus on new muscles you may not be targeting in traditional strength-training classes. Barre classes make use of a ballet barre for standing and floor work (typically) and may include mats and small equipment (such as hand weights or small balls). There are also classes such as Balletone® that don't require equipment but still emphasize balance training by linking together ballet conditioning exercises for a flowing workout that simultaneously enhances strength, cardio and flexibility. No need to wear a tutu or ballet shoes for that matter, an outfit suitable for yoga (tights and top) and bare feet will usually do just fine. Ballet formats are another low impact, varied intensity workout option suitable for a wide variety of participants designed to improve strength, coordination, flexibility and more.
Keep in mind that to reach your fitness goals you have to stick with it, and the only way to make sure you get your workouts in is to mix it up and find some staple activities you love! Remember, your body responds best to a bit of confusion. Try something different, at minimum once a month, to not only shock your body into seeing new and improved results but also to ward off overuse injuries. Enjoy!