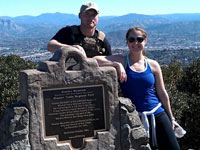 Amanda
Copywriter
Finding time for a workout has always been a priority for myself and my husband. It's finding time to spend together that can often be a challenge. Since we have differing schedules, there have been several days where I'll be in the gym after work and he'll be home waiting for me. We've found one way to spend more time together is to integrate our quality time in with our workouts. We make weekend plans that allow us to do some type of physical activity - like hiking or taking our dogs to the dog park, where we run around with them. And now that the sun is out later, we take walks around our neighborhood after work. That way we both stay active without sacrificing the most important things in life.
---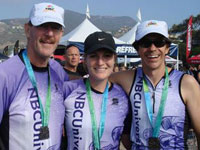 Alexandra
Certification and Exam Registration Coordinator
I really enjoy running so when I was given the opportunity to be the runner on a triathlon relay team last September I jumped at the chance to participate. Here is a picture of me and my teammates at the Nautica Malibu Triathlon. My dad (on the left) was the swimmer, our family friend Tom (on the right) was the cyclist and I was the runner. It was an awesome event and we raised a significant amount of money for Children's Hospital Los Angeles.
---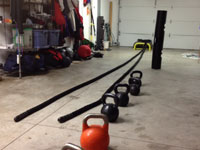 Pete
Exercise Physiologist
Exercise is something that is very important in my life. My wife and I met in a health club (she was a group fitness instructor and I was working the front desk for a free membership). As life has changed and I've become a certified personal trainer and then a fitness educator, exercise has become a part of my daily routine just like brushing my teeth or washing my face. My wife and I teach group fitness classes part-time at a local health club and take any opportunity we can to go for a walk or bike ride together. The fun thing about working full-time for ACE is learning about new tools and fitness trends; I often take my work home with me and do the latest workouts in my garage with equipment that isn't always available at my health club. My garage has turned into my own gym - with my kettlebells (28kg, 24kg, and 16kg), my heavy rope and a 20kg ViPR. My two English bulldogs hang out with me while I'm training, and my cool-down consists of taking them for a walk around the block.
---
Kickstart or re-start your habit of working out with the ACE PALA+ Challenge, a 12-week cardiovascular and resistance workout plan designed to help you get moving. Get motivated or just follow the conversation on Twitter by using #30DaysofFit.