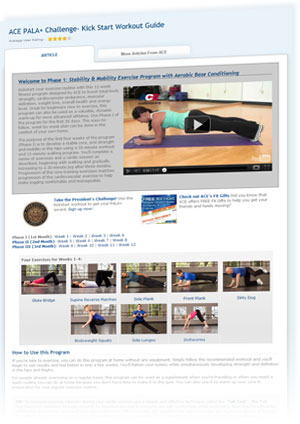 PALA+ has been getting a lot of play lately by First Lady Michelle Obama, who's been everywhere from The Ellen DeGeneres Show to The Biggest Loser promoting the importance of physical activity.
Now she and her famous husband are challenging you to making physical fitness a priority with the Presidential Active Lifestyle Award (PALA+). For two months, they want you to be active 30 minutes a day, at least 5 days a week. Or, if you use a pedometer, walk 8,500 steps per day.
ACE has jumped on board in support of National Physical Fitness and Sports Month, which officially begins today. We've made 12 weeks' worth of exercises you can use to meet your goal and keep on going – no matter how old you are.
The ACE PALA+ Challenge consists of weekly cardiovascular and resistance workout plans that help you kickstart or re-start your habit of working out, and win recognition from the Obamas in the process.
Start slow or hit the ground running. Either way, use May to just get moving! Get motivated or just follow the conversation on Twitter by using #30DaysofFit.