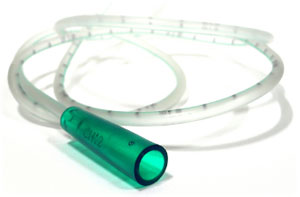 How far will some brides go to have the perfect wedding? A New York Times article that ran last week found they're willing to go pretty far if it means they can drop as many as 20 pounds in 10 days, a promise one Florida clinic is making.
The K-E diet has only one catch – you can't eat. At least not with your hands.
Dr. Oliver R. Di Pietro, diet founder and head of a clinic in Bay Harbor Islands, Fla., has been helping women drop weight with feeding tubes that provide all their nutrients for 10 days. He told NBC's Today Show, "People want to be perfect in this country, so I'm allowing them to do it."
While Pietro marks the first time the tube diet has been offered in the United States, it's been popular in Italy and Spain for years, and has recently gained popularity in England.
We had ACE Senior Fitness Consultant Nutrition and Weight Management Natalie Digate Muth, MD, MPH, RD, weigh in on exactly how healthy this new diet can be.
"The 'science' of how receiving nutrition by feeding tube promotes weight loss is no different than the 'science' of why any other 'diet' works -- the person is getting much fewer calories than usual," Muth said.
Tube feeding typically provides about 800 calories a day in nutrients, none of which are carbohydrates. That forces your body to get energy from carbohydrate stores, which causes a lot of water loss and, as a result, rapid weight loss.
The result "is not fat loss," Muth said. "It's water loss." And at $1,500 a pop, it's an expensive one at that.
"The feeding tube adds a new twist on the crash diet mentality but it's still a crash diet that is unsustainable, potentially very unsafe and very expensive," she said. "Just because the feeding tube is in place does not mean that a person cannot also eat by mouth, so this 'weight loss' is not guaranteed."
If you want to drop weight, you'd be better off eating fewer sugars and solid fats and more fruits, vegetables and whole grains combined with about 60 minutes of physical activity on most days, she said.

"Most brides have a good 6 months to a year to plan for the wedding," Muth added. "That's plenty of time to get fit with the adoption of a healthier way of eating and more physical activity. Then, not only will she be stunning at her wedding but she's more likely to keep it up in the months, years, and pregnancies that may follow."