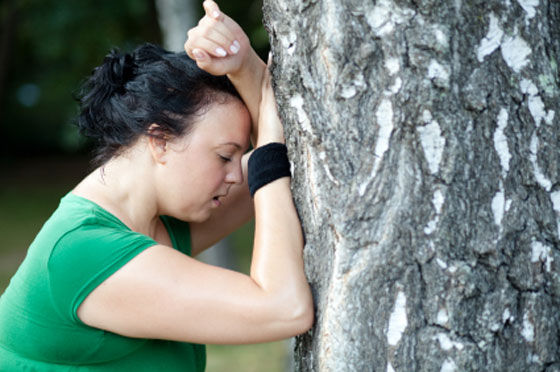 For those who quit on their workouts because they get too hot and uncomfortable, cooling their hands may help. A new study found that when obese women held a hand-cooling device during exercise, they kept working out, the LA Times reported.
The study was presented at the American Heart Association Epidemiology and Prevention/Nutrition, Physical Activity and Metabolism 2012 Scientific Sessions in San Diego.
Led by Stacy Sims, an exercise physiologist and research scientist at Stanford University, the study involved 24 obese women in their 30s and 40s who worked out on a treadmill three days a week for 12 weeks.
Some women held a device that circulated cool water (61 degrees Farenheit) to chill their palms. Others held a device with water at body temperature (98.6 degrees Farenhit) that did not provide a cooling sensation.
Those whose hands were cooled stuck with the 12-week exercise program — they did not quit or miss workouts. These women got results, too. The cooling grup reduced their 1.5-mile walk time by five minutes, shed almost three inches off their waists, lowered blood pressure and increased their exercising heart rate.
The group that did not hold hand-cooling devices saw no significant results.
"[The hand-cooling device] works to reduce the sensation of being overly hot and sweaty," Sims told NPR. "The idea is to allow those people to overcome the initial barriers that heat intolerance produces. It gives them positive affirmation to keep going."
Cooling core temperature may help you keep going the next time you get too hot and want to call it quits.
ACE Resources: Learn more about getting started on an exercise program; effective strategies for weight management; and how one ACE-certified Personal Trainer went from 312 pounds down to a svelte 140 pounds!