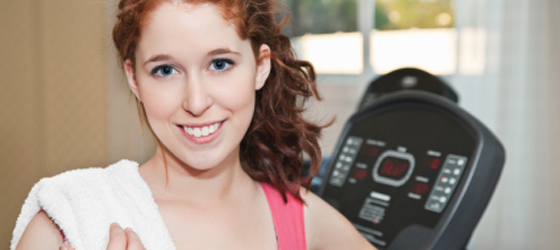 Some hotels have started to look out for their health-conscious clientele by offering folding cardiovascular equipment and yoga mats as room service options, but InterContinental Hotels Group (IHG) PLC is taking their services one step further. Holiday Inn's parent company announced Tuesday that it would be opening a new hotel brand, called EVEN, that's devoted to wellness and fitness.
The first EVEN hotels are set to open in early 2013, the AP reported.
The concept of a hotel chain focused on wellness may seem foreign since most find lackluster hotel gyms and accompanying vending machines as factors that derail workout routines on the road.
So what will these hotels look like? According to USA Today, you will be able to see the fitness center right from the lobby. IHG said these best in class gyms will have both equipment and group exercise activities.
Workout options in the room will include a weight bench instead of a luggage rack, a coat rack that can be used as a pull-up bar, an exercise mat, ball, and jump rope. And don't worry about space; these rooms are supposed to provide more so you can actually do a real workout.
If working out in the gym or room doesn't sound appealing, opt to visit their "Wellness Wall" where the hotel will provide closeby (within walking distance) fitness options and tips.
To complement your exercise routine, EVEN will feature antibacterial wipes, hypoallergenic linens, powerful showerheads, natural lighting and LED dimmers in the rooms. As for food, don't expect to find vending machines. Instead, the hotels will focus on natural and fresh meals. In the morning, expect some free coffee and mini-smoothies.
All these amenities sound expensive, but USA Today reported that the chain is not competing against luxury chains. EVEN's rates will be similar to a night's stay at a Hilton Garden Inn or Courtyard by Marriott.
IHG expects to open 100 EVEN Hotels within the next five years. The company believes it can reach this goal because health-conscious travelers' needs have not been met. If there's anything you hope to see, let EVEN hotels know here and poke around their concept.
While you're anxiously waiting to see EVEN hotel's concept come to life, follow ACE's tips for staying fit and active while you're traveling. And see what else is current in travel and fitness news.
Would having a hotel committed to your fitness routine help you stay on track? What are the biggest stumbling blocks you face on the road?