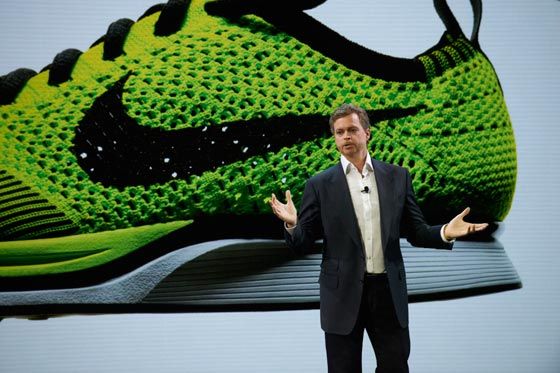 If you have been wanting to wear a more lightweight minimalist shoe — and were intrigued by the minimalist socks that take barefoot-style to a whole new level — but aren't interested in putting gloves on your feet, Nike's new Flyknit footwear may be the perfect solution.
On the same day Nike, Inc. announced its new Nike+ technology, the company announced its new running shoe technology, Nike Flyknit. The running shoes use new technology of "yarn and fabric variations [that] are precisely engineered only where they are needed for a featherweight, formfitting and virtually seamless upper," an official Nike statement said.
"It acts like a second skin for the foot," Nike said.
Because it's so formfitting, the shoe is able to adapt to the foot during movement while also providing support.
And of course, the featherweight marathon shoe, the Nike Flyknit Racer, will keep the marathon runner feeling light during all 26.2 miles.
A size 9 shoe weighs in at a total 160 grams (5.6 ounces), with the upper and tongue only weighing 34 grams (1.2 ounces). This is a whole 19 percent lighter than the Nike Zoom Streak 3, which was worn by the first, second and third place men's marathon runners at the 2011 World Championships. This shoe should definitely help the 2012 Olympic team.
For more average runners, there's the Nike Flyknit Trainer+ shoe, which will be available this July, Gizmodo reported.
So for those of you who have been wanting a lightweight running shoe that feels more like a sock — but doesn't look like a glove — this shoe may help you feel more bare.
Will you give Nike's new technology a try?