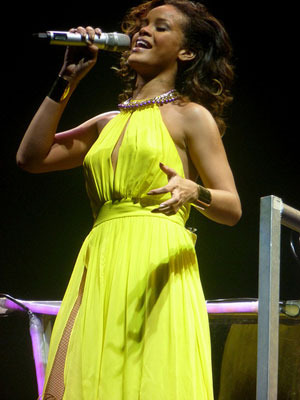 You may know the lyrics to one of Rihanna's top singles, but do you also know how she gets and maintains her fit physique?
Her trainer, Harley Pasternak, host of ABC's "The Revolution" and trainer of Hilary Duff, recently told People that when Rihanna's traveling, she tries to fit in three 25-minute workouts a week.
Her cardiovascular exercise regimen includes biking or cycling and jumping rope (read ACE's take on the benefits of jumping rope and how to do it properly) without a rope. She also uses stationary jogging and jumping jacks to increase her heart rate — and out of convience.
Pasternak said, "she can do those in a hotel room or backstage before a show." Talk about squeezing in a workout no matter what!
The singer's workouts increase to 30 minutes (up from 10) of cardio five days per week once she is more settled in at her location.
It seems that Rihanna is making sure to fit in a healthy amount of exercise into her busy schedule. If she can do it, you can definitely find time to exercse, too!
If you are really pressed for time, you can fit in shorter 10-minute workouts throughout the day. Research has found that small bouts of exercise throughout the day can provide the same benefits as one longer workout.
To make physical activity a part of your daily routine, ACE recommends scheduling exercise like an appointment into your calendar, recruiting a workout partner or fitness professional or trying 10-minute mini-workouts throughout your day.
Would you add jumping rope and jogging in place to your daily routine?
photo credit: flickr/oouinouin