If your Valentine's Day plans always consist of flowers, chocolate and a romantic dinner, it may be time to mix things up and get moving. This year, get your workout clothes on and plan an active holiday for you and your loved one. Add in the romance by scheduling a couple's massage after the workout — new research shows how beneficial this may be.
For some ideas on fun partner exercises, watch ACE Fitness Expert & Exercise Physiologist, Jessica Matthews, walk you through some effective moves:
While that couple's massage may ensure your day is still romantic, new research shows exactly what a masseur can do to those muscles, the NYTimes reported.
Getting a massage after a difficult workout is nothing new. Many people get one because it helps muscles recover, reduces pain or inflammation and of course, it just feels good. Why exactly does it have this effect?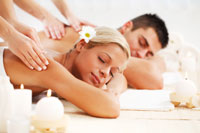 The research, published in the Feb. 1 issue of Science Translational Medicine, studied quadricep muscle samples from 11 young males who exercised for over an hour to the point of exhaustion.
After vigorous exercise, only one thigh of each male was massaged for 10 minutes. Then, researchers biopsied both quadricep muscles — from the massaged and non-massaged legs — immediately after the massage. They gathered more samples after two-and-a-half hours of rest.
When researchers examined all the muscle samples, they found that massage decreased the production of "pro-inflammatory" cytokines while increasing the activity of mitochondria, "the tiny powerhouses inside cells that convert glucose into energy essential for cell function and repair."
So the massage seems to decrease inflammation while helping cellular recovery.
That couple's massage may be a lot more worthwhile after all, and that workout you and your partner did beforehand can let you enjoy those healthy Valentine's Day desserts without any guilt. This year, have a Valentine's Day that's romantic and beneficial to your health.