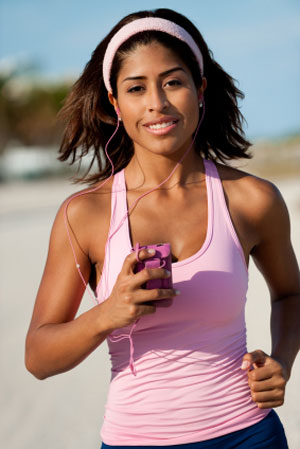 The 54th Annual Grammy Awards that took place on Sunday night may be the reason music is on your mind this Monday.
Of course, this year's award show took on a somber note when LL Cool J, author of his own workout book, opened the show with a prayer for the late legend, Whitney Houston.
While the news of Houston's death and talk of who took home the biggest awards (Adele swept the Grammys this year) may be giving music more focus right now, for most who hit the gym or trail, having the right workout playlist is a very important part of the workout.
It's understandable why the right music playlist can be seen as just another part of your workout gear. An ACE-sponsored research study showed that the right kind of music can positively affect an exercise program. The study found that a faster beat frequency tended to make people work harder or faster, and it helped them enjoy exercise, too.
So how can you ensure you have the right workout mix for your chosen exercise?
ACE recommends approximately 137-139 beats per minute (bpm) for power walkers, 147-169 bpm for runners, and 135-170 bpm for cyclers. The bpm should correspond to your target heart rate. If you're a group fitness instructor looking to add music to your group fitness class, be sure to consider these four factors and suggested bpm ranges.
So now you may be wondering how to find songs within those particular bpm ranges. There are workout music sites that will help you make a playlist: Pandora now has workout music stations, jog.fm lets you search by artist bpm and ClickMix also lets you search for music by style or bpm to create your own custom mix.
Whatever songs you choose, be sure to select music that will move you, NPR reported. ACE Fitness Expert & Exercise Physiologist, Jessica Matthews, said the current two songs that are moving her are "Good Feeling" by Flo Rida (she said with a laugh because she's usually not listening to more mainstream selections) and "Nothing to Prove" by Goldfinger. She said both are fast-paced and good for her workouts!
What are the top favorites on your workout mix?