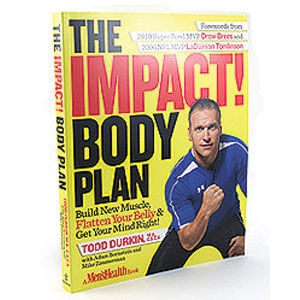 Super Bowl 2012 is just around the corner, and fans are getting ready to root for the New England Patriots or New York Giants. Gisele Bundchen even reportedly sent an email to friends and family, asking them to pray and send positive energy to her husband, Tom Brady, and his team.
Whether you plan on sending positive vibes to Brady or Manning, did you know you can do it while training like an NFL professional?
Todd Durkin, friend of ACE and owner of Fitness Quest 10 & Todd Durkin Enterprises, is an NFL trainer who has worked with LaDainian Tomlinson, Drew Brees and Aaron Rodgers amongst others.
Watch Durkin reveal some training secrets on San Diego's Fox 5 here.
If you want more details about his elite training program and want to build new muscle, flatten your bellyand enhance your athletic performance, purchase Durkin's book, The Impact! Body Plan, here.