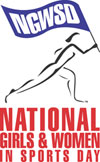 Get your party hat on because Wednesday, Feb. 1, is the 26th annual celebration of National Girls and Women in Sports Day! It's time to honor the athletic opportunities women and girls have today, celebrate active females and bring awareness to limitations that are still present.
This celebration is important because while it may seem ordinary to see girls being active in little league or women competing at a professional level today, that hasn't always been the case. Girls did not always have equal opportunity as boys to participate in sports or physical activity at school — that is until 1972 when Congress passed Title IX, federal law that prohibits gender discrimination.
Since Title IX is celebrating its 40th birthday in 2012, the theme for this year's celebration is, "Title IX at 40: In it for the Long Run."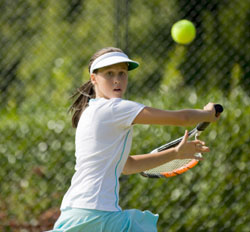 Athletes, parents, students, sports educators, athletic directors and coaches will be gathering at events around the country honoring this day. Professional athletes like Katie Smith and Jessica Mendoza are sharing what today means to them and how participating in sports shaped them.
They will also be raising awareness to areas of inequality that still exist today. According to the National Association for Girls and Women in Sport, "high school girls still receive 1.3 million fewer participation opportunities than do boys, and evidence suggests that the money spent on girls' sports programs lags significantly behind the money spent on boys' programs."
Do you know any awesome girls and women who participate in sports? Do you have a story about how participating in athletics has affected you? Leave us a comment and let us know!