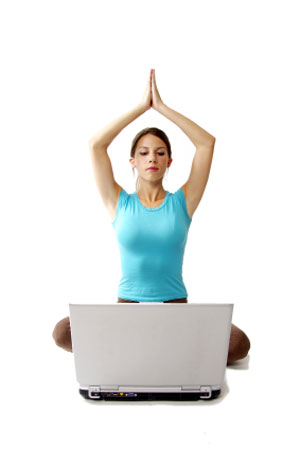 Some days, the victory isn't counting how many miles you ran, but celebrating that you actually got out the door to do your workout. Don't feel bad — for those days when the couch and TV are much more attractive than a crowded gym, leaving the house is quite an accomplishment.
Knowing that motivation to exercise — or get to the gym — is difficult to maintain, a growing number of companies are now streaming their group fitness classes and workouts online, CNN reported.
Companies like Flirty Girl Fitness LIVE, Yogis Anonymous, DailyBurn, Connect Online Fitness, EMG Live Fitness, and YogaGlo are just some that offer these services. They require that you purchase monthly subscriptions, weekly passes or per class to gain access to their services.
This service may not seem different from following a workout on YouTube or using a workout DVD, but Flirty Girl Fitness founder, Kristen Knee, told CNN that streaming a class online "is always live, always fresh, and you feel like you're there."
Joyce Wells, founder of EMG Live Fitness, said she started her business after realizing how much revenue was in online paid content like Netflix. She had an added incentive to start the business after moving and being disappointed by the local group fitness classes.
These online services definitely help those who may not feel comfortable going to the gym. If you're worried about missing exercise equipment the gym may provide, the 4-piece ACE FitKit can get you started.
Fortunately (or unfortunately, depending on how you see it), these online classes make it a lot harder to give in to the tempting calls of your couch and TV.
Would you add these classes into your workout routine? If you own a fitness business, do you think livestreaming is a good direction to take?
Here's a sample of a cardio dance class from EMG Live Fitness: