We have had a lot of fun gearing up for the holidays here at the ACE headquarters. The pictures below show just how we got into the holiday spirit.
First, to show our continued support for our troops, we assembled care packages for those who are serving and away from their families this season:
Then it was time to decorate the ACE Christmas tree. How did we do?
Time for the practical jokes! ACE's Study Assistance Administrator, Christopher Gagliardi, wrapped Karen McGuire's (bottom right) cubicle like a gift after she had left for the day. He even put a bow on top to give his present that special touch.
When Karen came in the next morning, she was quite amused — and so was the rest of the ACE team! She unwrapped the cubicle gift and worked from inside until her computer overheated.
Most people look forward to having snowball fights this winter season, but since we don't get too much snow here in San Diego (surprise!), we played with the next best thing — Sno Ball snacks.
Whoever dropped a Sno Ball was eliminated from our snowball toss. By the way, no, we did not eat the Sno Balls after they had been tossed around and dropped on the ground. That would be gross.
Finally, ACE team members busted out their ugly christmas sweaters. Those with the best sweaters posed for an awkward company photo: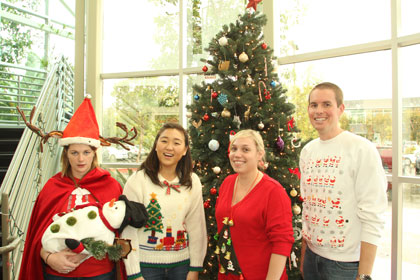 From everyone here at ACE, we wish you happy holidays!