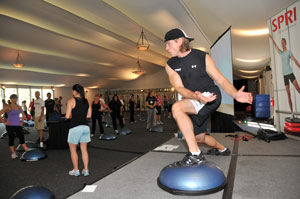 Peter Twist leading a workout at the 2010 ACE Symposium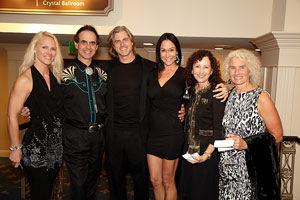 L to R: Justine Dineen, Len Kravitz, Peter Twist, Kim Heath, Kathie Davis, Gwen Hyatt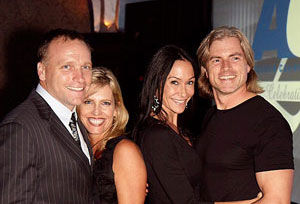 Todd Durkin (L) and Peter Twist (R) with their significant others
If there's anyone who can fight the toughest battle against cancer, it's the successful fitness professional and industry leader, Peter Twist.
Peter Twist (Twister) has been a longtime friend of ACE, so like many others in the fitness industry, we were moved when our friend, Todd Durkin, posted that Twister was diagnosed with Stage IV nasopharyngeal cancer (head/neck) that had spread throughout his lymph system. Since he was diagnosed last year, he has been battling the cancer, receiving "chemotherapy and radiation at the highest level one can receive."
Twister said this left a severe burning sensation in his mouth, face and neck.
Even through this challenging year, Twister has maintained his intensity, positivity and passion for life.
"I believe survival is in part determined by a will to live, a will to love, and a willpower to do the hard things well every minute during challenge, pain, and suffering. Become very passionate about LIFE and engage in activities in a way that grows WILL and WILLPOWER," Twister said to Durkin.
And his business, Twist Sport Conditioning, website reads, "Life is short. Live Everyday. Today I will give everything I have, what I keep inside I will lose forever."
This positive energy to achieve the best and help others do the same — no matter the circumstances — is not surprising to our ACE fitness experts who have been inspired by Twister when working together.
Here's what some of them had to say:
Jessica Matthews, ACE Exercise Physiologist: Peter Twist has truly made an impact on the fitness industry. His passion for inspiring others to be the best that they can be is evident not only in the quality training, education and programs he provides, but also through his incredible energy and positive attitude.
Pete McCall, ACE Exercise Physiologist: Pete is a gifted educator who cares about helping others achieve their best whether they're his clients or fitness professionals attending one of his lectures. Pete always has a positive attitude and is constantly seeking new learning opportunities to expand his knowledge.
Cedric Bryant, Chief Science Officer: Peter Twist is a pioneer and innovator in field of sports performance conditioning who tirelessly shares his vast knowledge and experience for the betterment of others and the advancement of the field. I feel honored to know such a consummate professional and pray God's best for him with his battle.
What do YOU have to say about Peter Twist? Please leave your stories and best wishes in the comments section below.