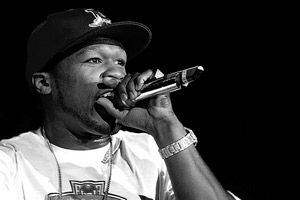 50 Cent hopes to motivate you to get fit — not with a new song, but with a new fitness book.
The rapper's new fitness book, "Formula 50: A 6-Week Total Body Transformation Plan," is scheduled to be published in January 13 by Avery Books, the Associated Press reported. The book will stress metabolic resistance training along with a nutrition guide. Its co-writer will be Jeff O'Connell, editor-in-chief of Bodybuilding.com
According to the AP, 50 cent said he wants to help people "make positive changes and take charge of their overall health."
This isn't the first time a rapper has ventured into the fitness industry with a book — LL Cool J released "LL Cool J's Platinum Workout" in 2006.
Will you try 50 Cent's book? Would you if it came with an accompanying workout playlist?
photo credit: flickr/aleksey.const