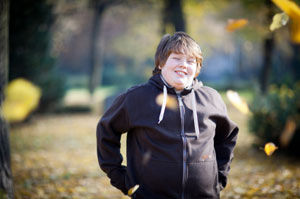 California students did not get a good grade in physical fitness this year. The state's Physical Fitness Test results released Wednesday showed that only one-third of students are fit enough to meet state fitness goals and pass six physical tests.
1.34 million students in grades five, seven and nine took the six-part test last spring. They were tested in aerobic capacity, body composition, abdominal strength, trunk strength, upper body strength and flexibility.
Based on their performance, students were classified as passing and being in the "Healthy Fitness Zone (HFZ)," not in the zone (needs improvement), and "Needs Improvement — High Risk."
To make it into the HFZ, for example, a 5-foot-6 inch, 150-pound male ninth-grader must run a mile within nine minutes, do at least 16 push-ups and do at least 24 curl-ups.
The fitness scores for students in each of the three grades declined from last year, and worse, the test found that 34.1 percent of fifth-graders, 30.3 percent of seventh-graders and 35.0 percent of ninth-graders are considered high risk for health problems.
"Today's results are clear: when only 31 percent of children are physically fit, that's a public health challenge we can't wait to address," Tom Torlakson, State Superintendent of Public Instruction, said.
ACE is dedicated to combating the childhood obesity epidemic by providing educational resources on how to get kids moving. Check out our Operation FitKids page to download a FREE curriculum for educators looking to incorporate fitness in classroom learning and also check out our "Kids in Motion" Fit Fact about how to get kids moving.
What do you think will help our country's youth get fit? Is the answer more child fitness gurus or role models with real success stories?
[via Mercury News and San Francisco Chronicle]