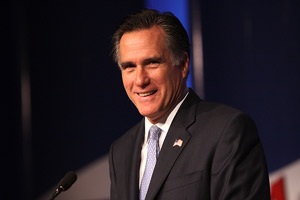 Presidential hopeful Mitt Romney may be busy on the campaign trail, but he makes sure to stay fit through all the travels and stress.
According to Politico, 64-year-old Romney is "a dutiful jogger" who runs three miles every morning no matter what. He runs on jogging trails, on a treadmill in the gym and if there are no other options, around his hotel building multiple times where he's staying.
As for his food choices, he pulls cheese off his pizza slices and the skin off his fried chicken. His normal diet consists of "turkey breast, rice and broccoli, chased by water or maybe a Diet Coke."
It's no secret that President Obama's favorite way to stay fit is to play in pick-up basketball games — he reportedly even has his very own sneakers customized with the presidential seal, created by Under Armour.
Between President Obama and Mitt Romney, who do you think would finish the race on top? That is, a running race.
Even if you're not running for president, it's challenging for anyone to stay fit on the road. For tangible tips on how to stay on track, check out ACE's Fit Fact about travel fitness, resistance tubing (easy-to-pack equipment) workouts, and staying healthy on long plane rides.
How do you stay fit on the road and during busy, stressful times?
photo credit: flickr/Gage Skidmore