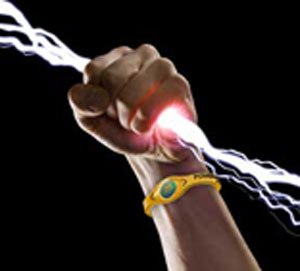 If you're looking to gift a trendy Power Balance performance-enhancing bracelet like the ones Shaquille O'Neal, Kobe Bryant and David Beckham have all worn, save your $30 bucks.
Power Balance LLC, makers of the hologram-embedded silicone wristbands, filed for Chapter 11 bankruptcy after numerous lawsuits alleging they misled customers, according to the LATimes.
According to the documents filed in federal court, the company has debts of $10 million to $50 million and only less than $10 million in assets. They owe professional sports teams, professional athletes and have to cover fees associated with those lawsuits alleging misleading advertising claims about the bracelets' performance-enhancing abilities. The company says the "unauthorized marketing tactics [originated from] an independent distributor in Australia."
But last January in an issued statement, Power Balance LLC admitted its bracelets were bogus! "In our advertising we stated that Power Balance wristbands improved your strength, balance and flexibility. We admit that there is no credible scientific evidence that supports our claims and therefore we engaged in misleading conduct," the company said.
As your Workout Watchdog, ACE's April 2011 study also found that Power Balance's bracelets did not enhance performance:
"We tested the bracelets the exact way they were advertised," said John Porcari, lead scientist of the study. "They simply don't work as advertised. To me, it's just an absolute scam."
What do you think?