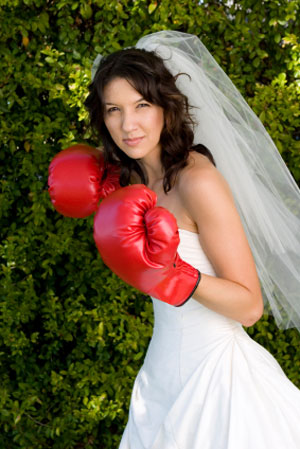 Don't be confused if your next bachelorette party invitation requests that you wear workout attire. No, the bride-to-be is not trying to upstage your outfit. She wants to party with you at a yoga studio, barre class, stationary-cycling studio or even at a 10K road race.
The New York Times reports that more brides-to-be are exchanging traditional bachelorette party activities like drinking alcohol and dancing at a bar for hydration fluid and a workout. Some remnants of a conventional bachelorette party — pink accessories and a veil — may still be present at these fitness-focused events. Also, the workout playlist may include wedding-themed music.
According to the article, this new trend "reflects [the] shifting priorities among a new generation of brides."
It's already hard enough to fit a workout into a busy schedule, so brides-to-be, who are busy planning their weddings and focusing on getting fit for the big day, see including fitness as "productive."
There may be alcohol included after the workout, but that's up to the bride. At least she won't feel guilty drinking to that toast.
What do you think of this trend? Would you host or attend a workout-based bachelorette party?
[via NYT]