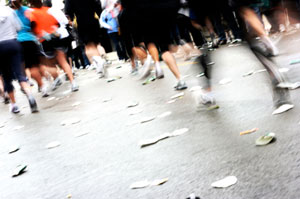 Most marathon finishers get a shiny medal and soreness for finishing the grueling 26.2-mile race. Amber Miller ended her marathon day with a medal, soreness and a baby — certainly a productive day.
Miller was almost 39 weeks pregnant with her second child when she started the Chicago Marathon on Sunday. In an interview with the Chicago Tribune, she said she alternated between running and walking two miles each and felt great. Even with her contractions beginning towards the end of the race, she kept up with her run/walk pace!
Miller's doctor did give her permission to run the marathon because she regularly ran and walked throughout her pregnancy. Her husband ran the race with her. After they both finished, Miller's contractions were coming every five minutes. She grabbed a sandwich and then headed to the hospital to give birth to her new baby girl.
Baby June was born at 10:29pm at seven pounds, 13 ounces.
So who said you can't run a marathon, too? ACE will be at the LA and San Diego Rock 'n Roll Marathon this year, so sign up and stop by our booth to say hi!
[via Chicago Tribune]