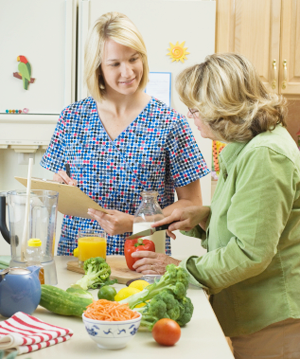 Planning to kick start your weight loss efforts? Striving to boost your sports performance? Needing to change your diet for health reasons? Or, just looking for an individualized eating plan to help optimize health? Whatever your unique situation, a registered dietitian (RD) may help you increase the enjoyment and success of a dietary overhaul.
While many allied health professionals — including qualified personal trainers and fitness experts – can do a lot to help you increase nutrition knowledge, try healthy recipes, and adopt federal dietary guidelines like the MyPlate eating plan, a RD can help you go several steps further.
Customized recommendations: A RD has special skills and training to help you develop a nutrition program that specifically meets your needs – whether that's a health and fitness goal, weight loss, health optimization, or medical condition treatment. While the various readily available tools like MyPlate.gov can offer a general idea of what to eat, a RD can help you put an ideal plan into action.
A safe approach: Fad diets can help you drop weight fast, but the weight inevitably creeps back on while potentially causing health risks. A RD will develop a safe nutrition plan to meet your goals while optimizing overall nutrition and health. She or he will also keep you up to date with the latest research and recommendations of what really works versus what is risky or unproven. This is especially important for individuals struggling with obesity, diabetes, chronic disease, or very restrictive eating practices such as eating disorders, food allergies, or serious health conditions.
Answer the tough questions: Wanting to know if a particular supplement may be worth trying? Or perhaps you're curious about a food-drug interaction with the new medicine your doctor just prescribed? A RD can work closely with the other health professionals involved to help answer some of the tough questions and make sure that a nutrition plan will best meet your needs, given your unique circumstances.
Enhance motivation: There's nothing like having a bona fide nutrition expert holding you accountable. A RD can help you stay motivated, troubleshoot challenges and barriers, and help you get back on track after a relapse.
What can I expect during my initial session?
At your initial visit, the RD will strive to understand you, your past successes and challenges, and your current goals. She or he will get some background health and medical information and will likely ask you to complete some form of a nutrition log to gain a better understanding of your current eating patterns. Based on your height, weight, gender, and physical activity level, she or he will plug a few numbers into a high-tech program that will give you an idea of about how many calories you need per day to maintain your current weight. From there, the RD will put all the information together and help you come up with your own individualized nutrition plan.
How often do I need to meet with a registered dietitian?
Depending on your situation, the number of times you meet with a RD can vary from simply a one-time session to a few times per week. Some people just need to get a nutrition plan in place while others need constant feedback, support, information sharing, and tweaking. People who have medical problems with a large nutrition component – like diabetes, obesity, advanced kidney disease, and gastrointestinal pathology – may benefit most from an ongoing relationship with a RD. Many dietitians also offer group sessions and programs, which may span over the course of several weeks or months.
How do I know which registered dietitian is right for me?
If you choose to work with a RD, you can be assured that he or she has extensive nutrition training and education. This is not the case for a non-RD "nutritionist" for whom there are few to no assurances on the person's background or training. All RDs (you can spot them by looking for the "RD" behind their name) have earned at least a bachelor's degree and/or master's degree in nutrition and have met all of the extensive coursework and examination requirements set forth by the Commission on Dietetic Registration.
Beyond that, however, each RD is very different. Some have undergone specialized training in particular areas like sports nutrition, diabetes education, or pediatric nutrition. Others may focus on weight management or chronic disease prevention. Some RDs work in private practice while others are employed by hospitals and health centers.
Before signing up with a RD, do your research. Your health insurance plan may cover nutrition services from a RD contracted with that plan. Or, your gym might have a dietitian on staff as part of your membership or for a nominal fee. Ultimately, you should strive to find a dietitian who is convenient and affordable and most importantly, whose philosophy and personality is helpful and motivating to you as you set out to optimize your health and quality of life.
Ready to get started? Learn more about the role of registered dietitians and find one in your area.