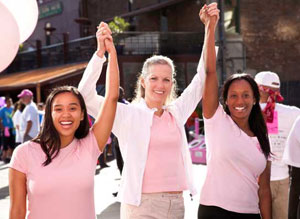 If you're a professional football fan, you might have noticed burly NFL football players and coaches donning pink cleats, gloves, caps, and even chin straps on Sunday night.
Even if it looked like a wardrobe error, this was no mistake — the players and coaches were paying tribute to Breast Cancer Awareness month.
October is Breast Cancer Awareness month and while breast cancer death rates in the United States have declined, it's still the most common cancer among women in the United States, after skin cancer. According to the American Cancer Society, about 230,480 women will be diagnosed with invasive breast cancer in 2011. And, an estimated 39,520 women are expected to die from this cancer in 2011. Of course, men can get breast cancer as well, but it's much rarer.
During this month, the American Council on Exercise reminds men and women of the strong evidence linking regular physical activity to recurrence prevention and to increased survival rates. If you're a fitness professional, find out how fitness professionals like you can help breast cancer survivors live longer, healthier lives.
And, if you're a survivor, or undergoing treatment, here are some fitness recommendations for you:
Physical activity guidelines suggest that breast cancer survivors should engage in aerobic activities at moderate intensity for a total of 150 minutes per week or vigorous/strenuous intensity for 75 minutes per week; or some combination.
Recommendations for strength training include performing activities that work the major muscle groups in both the lower and upper body two or three times per week.
To improve flexibility, recent recommendations suggest stretching major muscle groups when aerobic and strength-training activities are performed.
Women who have had surgery should allow time for healing and then evaluate arm/shoulder mobility before performing upper-body exercises. Women should not exercise on days of extreme fatigue or pain.
If undergoing chemotherapy, set short-term goals to prevent loss of interest or motivation. Nausea may lead to lack of appetite and then to low energy.
If radiotherapy is part of treatment, wear comfortable clothing when exercising as skin rashes and burns may be present. The pool should also be avoided as an exercise option.
If undergoing hormone treatment, choose safe activities that limit possibility of falls — be aware of risk for fractures. Exercise in a cool environment and drink plenty of fluids.
Considering engaging a personal trainer who specializes in working with cancer survivors. Find an ACE-certified Personal Trainer today.