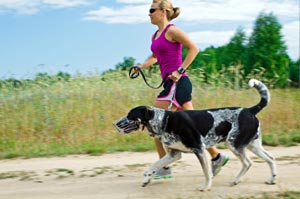 Here's another reason to love your four-legged best friend: You're more likely to be fit and walk faster thanks to your dog.
According to a survey reported in Reuters, dogs are the reason two-thirds, or 66 percent, of owners walked each week. After all, a dog needs to get out rain or shine!
ACE spokesperson, Shirley Archer, was quoted in the article and said that dogs are great workout partners — they offer energy, enthusiasm and the social suport that keeps you going.
A friend who motivates you to live an active lifestyle really is a best friend.
Is your dog your fitness motivator? Tell us how!