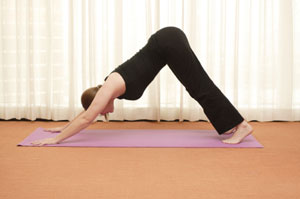 Recent research may suggest that working out during work hours can increase productivity, but we all know it's hard to stick to your usual routine during a business trip.
Not all hotels have a (great) fitness facility and if you prefer to work out in privacy, that option isn't always possible — unless you packed your own portable equipment.
Times have changed: Add a folding treadmill, a folding recumbent bike, yoga and pilates DVDs, and mats to the room service menu. Those options may not actually appear on the room service dining menu, but Reuters reports that hotels, like the Ritz-Carlton Hotel Company, will bring equipment to a guest's room upon request.
If they recognize a pattern that you usually request a particular piece of equipment, they will have it in your room upon arrival. Now, that's room service.
Other hotel chains, like The Kimpton chain and Sheraton Hotels & Resorts, are also expanding their in-room and gym facilities due to high demand.
Today's business traveler is more interested in maintaining their work/life balance by sticking to their workout regimen rather than only wining and dining.
So add 24-hour yoga channel classes, hotel-sponsored group runs, bicycle rentals, and even gym clothes to possible options the next time you plan your travel workout schedule.
For more information about fitness and travel, read the ACE FitFact™, "Travel Fitness: A Plan of Action to Keep You Active." And want to know how ACE CEO, Scott Goudeseune, stays healthy on the road? Read his very own Top 25 Tips.
[via Reuters]