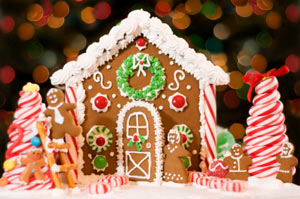 If you're like most people, you're probably going to have a bit of a sugar-binge this holiday season. From the frosting-decorated sugar cookies at the office party to the block of fudge from the next door neighbor, fatty desserts are hard to avoid. So what do you do to (1) show your appreciation for these thoughtful gifts, (2) contribute to the festivities and holiday spirit, and (3) satisfy your sweet tooth without loading on the calories?
Show your appreciation. A fun and affordable way for people to express their love for family and friends during the holidays is to prepare baked goods. Be thankful for the thoughtful gifts, but don't feel like you have to eat all of it to show your respect for the baker. Send a thank you note sharing your appreciation and try a bite or two of the goods so that you can send compliments to the cook. Then quietly discard the rest. It's tempting to pass the goods on to a "skinny friend" or encourage the husband to go to town on all the treats, but also try to be cognizant of their health status and nutrition and fitness goals. If you really like the sweets that were given to you, then consider freezing half or allocating the goods into portion-controlled baggies. Everything can fit into a healthy diet in moderation, but it takes extra planning to avoid overdoing it, especially during this time of year.
Contribute to the festivities. A quick search of any online recipe website (check out ACE's delicious and healthier holiday recipes) will provide you with a wide variety of wonderful dishes and desserts to prepare for the various holiday parties and festivities that you'll attend. By keeping it relatively healthy (but still making sure it tastes good) you can lessen your own caloric intake from sampling your creation during preparation and you also avoid contributing to the growing waistline of the fellow party goers.
Satisfy your sweet tooth. If you find yourself craving sweets but really want to make a concerted effort to be healthy this holiday season, try out some of these delicious good-for-you desserts. These recipes originally appeared at allyou.com. I also prepared them for the viewers of San Diego Living with rave reviews. Each contains about 200 calories and contains at least one serving of nutrient-packed fruit.
Fruit Sundae
1/2C frozen mixed berries, 1 scoop fruit sorbet, 1T chocolate chips (melted)
Warm up frozen mixed berries in the microwave. Spoon them on two scoops of fruit sorbet. Top it all off with a tablespoon or two of chocolate syrup.
Calories: 240 fat: 5.5g
Chocolate Cherries
1C sweet pitted cherries, 2T melted chocolate chips
Melt a quarter cup of dark-chocolate chips in the microwave and enjoy it as a dip with cherries (or any other fruit of your choosing)
Calories: 210 fat: 10g
Banana Pops
Medium banana covered in vanilla yogurt and chopped almonds
Dip fresh bananas into vanilla yogurt, roll them in chopped nuts. Wrap each banana in wax paper and then freeze them.
Calories: 220 fat: 6g
Honey Yogurt Dip and Fresh Fruit
6oz nonfat vanilla yogurt, 1t honey, 1t cinnamon, 1/2C blueberries, 1/2C honeydew
Mix 8 ounces of vanilla yogurt with a teaspoon of honey and a teaspoon of cinnamon. Use it as a dip with fresh, in-season fruit.
Calories: 260 fat: <1
Hawaiian Smoothie
1C skim milk, 1/2C frozen strawberries, 1/2C frozen pineapple, 1T shredded coconut
Whip together one cup of skim milk and a half cup each frozen strawberries and crushed pineapple (canned in juice and drained). Stir in a few teaspoons of shredded coconut.
Calories: 220 fat: 2g