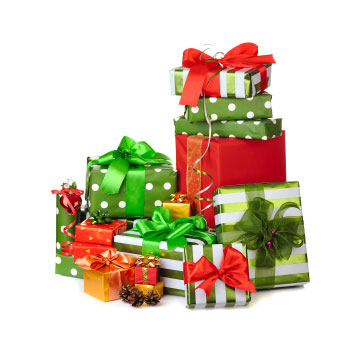 The holidays are supposed to be a time of cheerfulness, catching up with old friends and family, joyfully giving the perfect gift to those people that we hold most dear…Except for when the clock is ticking, you're all shopped out, and still you have no idea what to give those last few people on your list. If you're looking for a fitness gift idea for someone who is into health and fitness, or who plans to be once the New Year comes around, we've got some great options for you to consider.
Under the Workout Watchdog banner, ACE editors and experts have conducted health and fitness product reviews for the last two years allowing you to find some of the most effective fitness products on the market. Products with the highest ratings that would make great holiday gifts are highlighted here, along with some other items that we think your fitness gurus will love.
Apparel. True, apparel isn't the most creative gift, but you can't go wrong getting a fitness buff workout clothes. A runner can always use some new Dri-Fit running clothes, a cyclist biking shorts, a yogi and most any female gym enthusiast the expensive but worth it Lululemon pants (check out ACE product reviews website for a full review of two styles of Lululemon pants as well as other highly-rated apparel like the Patagonia micro puff vest, Under Armour flex short, and Drymax sport socks).
Portable Equipment & Electronics. The market is chock full of equipment to help the athlete in your life perform better, run faster, and work harder.
Watches. The most basic sports watches let an athlete track speed and distance whether on the road, at home, or in the pool. Timex watches are the gold-standard here (go to timex.com and you can get 20% off and free shipping). You can also splurge with a GPS watch to race against a computerized competitor, track distance and speed, and wirelessly upload data to a personal computer. Garmin's GPS technology continues to evolve and what was once a heavy and bulky ogre of a watch now has slimmed-down to a normal-sized high-tech and sophisticated GPS system. Amazon.com seems to offer the best price and most helpful reviews for these watches. You can also purchase accessories that allow accurate tracking for cyclists and indoor athletes.
Heart rate monitor. Your basic heart rate monitor has evolved into a much more advanced, high-functioning system. Hot this year is the Adidas miCoach Pacer heart rate monitor that not only tracks your heart rate, pace, and calories burned but you can also hook it up to your mp3 player for coaching and motivational prompts and sync with micoach.com to further analyze your workout program. Polar has long been the leader in heart rate monitoring technology and offers a wide array of heart rate training products for every fitness level.
Home equipment. You can stock a home gym with the basics like dumbbells, resistance bands, workout DVDs, yoga mat, and a jump rope. You can also spice it up a little bit with some fun, functional equipment like the Bosu balance trainer which ACE editors gave five stars for its versatility.
Fuel belt. Anyone training for an endurance event can benefit from a fuel belt to transport fluids and nutrition. This relatively inexpensive item (about $25) is sure to get a lot of use. You can load it up with sports drink powder packets and nutritional bars and gels to get the recipient stocked for the next big training run.
MP3 player. Every fitness enthusiast and athlete needs (and probably already has) an MP3 player. If you need to buy a gift for someone who doesn't have an MP3 player or is in the market for a new one, this is the perfect gift. Apple's products seem to be your best bet from the iPod Shuffle to the Nano.
Games. Winter keeps many well-intentioned would-be fitness enthusiasts indoors. While interactive video games don't quite offer the same health benefits as a full-out workout, it's better than watching TV or playing sedentary games. Nintendo's Wii has been a hot gift item for the past couple of years. You could check out some new games for this system, add on the Wii Fit or check out some new players in the interactive video game market including Sony's Playstation3 Move controller and Microsoft's Kinect.
Gift Certificates. Gift certificates are ideal because they're easy to purchase and transport, you have control over how much you spend, and the receiver has some flexibility in choosing how to use them. An iTunes gift certificate can go a long way in helping the recipient load some new music on the MP3 player, or for downloading health-related apps onto an iPhone or iPad. New and seasoned exercisers alike might appreciate a gift certificate for a few personal training sessions to get their fitness program started or to take it up a notch. Use the "Find an ACE Trainer" feature on the ACE Web to locate a certified fitness professional nearby. Cold-weather enthusiasts especially might appreciate a gift certificate towards a gym membership. Or, if you're all out of ideas, you can't go wrong with a gift certificate to a sports store, or even Amazon.com where the recipient can buy for himself most anything.
Tickets. Many people who like to participate in athletic events also like to watch them. How about tickets to a sporting event? Or, better yet, how about tickets to go do something activity like snow skiing, ice skating, or hockey?
Books. A variety of cookbooks and sports nutrition and exercise books fill multiple shelves at bookstores. A few favorites include Connie Gutterson's Sonoma Diet Cookbook and Nancy Clark's Sports Nutrition Guidebook. The Athlete's Plate: Real Food for High Performance by Adam Kelinson has also recently gotten a lot of attention and high reviews.
Hopefully this helped but if you're still at a loss for what to get, don't despair. Just pick something, ask for a gift receipt, and leave it at that. The added stress of tirelessly and fruitlessly searching for the perfect gift is no good for your health.